Company Day Packages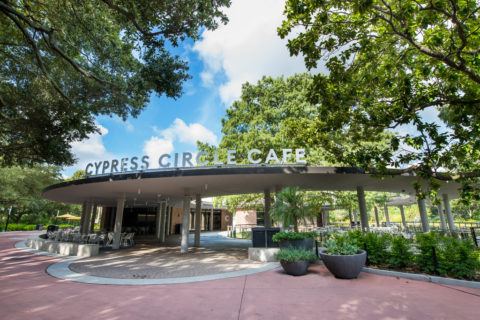 In lieu of a traditional event, purchase group tickets and Zoo Bucks (Zoo currency) for your employees and their families to visit the Zoo while practicing social distancing. Guests will have access to enjoy the Zoo's exhibits and will be able to redeem Zoo Bucks for food and beverage items at various dining locations and kiosks throughout the grounds. Please note that reserved seating for dining is not available.
Day Package:
Daytime Zoo admission & Zoo Bucks, good for 9:00 a.m.-5:00 p.m., on a pre-scheduled day
Available for corporate groups of 20 or more guests and must be booked at least two weeks in advance
Time Slots and Venues
10:00 a.m. – 1:00 p.m.
2:00 p.m. – 5:00 p.m.
Karamu Outpost
100 – 150 guests
George R. Brown Conservation Education Center
100 – 300 guests
H-E-B Lone Star Pavilion
150-300 guests
Masihara Pavilion
300 – 2,000 guests
View our Picnic Venue Map to see where in the Zoo each venue is located.
Need more space? Let us customize an entire Zoo rental for your group!
Prices Include
Admission to the Zoo
Use of picnic area for 3 hours, with a choice of two seating times (10:00 a.m.-1:00 p.m. or 2:00 p.m.-5:00 p.m.)
Seating for 150 in a covered area (additional seating available at extra cost)
Two hour beverage service featuring Coca-Cola soft drinks and water
One and a half hour buffet-style food service
Compostable utensils and serveware
Find Out More
For our full menu, picnic enhancements and policies, please see our picnic package guide below.
Questions? Ready to book? Submit an inquiry using the form below, and a Houston Zoo event specialist will respond with more information.
Houston Zoo Special Events
713-533-6833
events@houstonzoo.org
Picnic Menu Package Options
$37.95 per adult
$33.95 per child (under age 12)
Grilled hamburgers and all beef hotdogs with all the fixins: cheese, lettuce, tomatoes, onions, pickles, ketchup, mustard, and mayonnaise. Served with ranchero beans, kettle chips, and cookies.
$40.95 per adult
$36.95 per child (under age 12)
Citrus-marinated chicken breast and ancho-rubbed skirt steak fajitas paired with sauteed peppers and onions. Served with cilatro rice, refried beans, tortillas, and cookies for a sweet treat. Accompanied by shredded Monterey Jack cheese, pico de gallo, jalapeños, guacamole, and sour cream.
$45.95 per adult
$41.95 per child (under age 12)
Dry-rubbed BBQ chicken and smoked beef brisket. Served with coleslaw, potato salad and ranchero beans, along with cookies for dessert. Accompanied with onions, jalapenos, Texas toast and BBQ sauce.
Popular Add-Ons:
Pre-Filled Reusable Water Bottle – $6.95 per person
All-Day Drink Wristband – $7.95 per person
Veggie Burgers – $3.75 per person
Popcorn – $2.75 per person
Cotton Candy – $2.75 per cotton candy
Snow Cone Station – $3.00 per snow cone (snow cone station requires an attendant for $125)
More options available on the full picnic menu.
Frequently Asked Questions
Is there a minimum number of guests required?
A minimum guarantee of 100 guests is required for the picnic spaces. Ask us about other available space if your group is smaller than 100 or exceeds 2,000 guests.
What if I exceed 2,000 guests?
If your herd exceeds 2000 guests, let us customize an Entire Zoo Rental for your party animals.
Can I add additional seating?
Additional seating is available for an additional fee upon request.
What is required to reserve a date?
A signed contract and a 50% deposit (which will be credited toward your final bill) must be received by the Special Events department in order to reserve a date.
When is my final guest count and payment due?
A final, guaranteed guest count must be provided at least 7 business days before the event. Your bill will be based on the final guarantee, and final payment is due 5 business days prior to your event. Your final count allows us to prepare the proper amount of food and beverage for your guests. The menu cost per guest will increase by 50% for guest count increases after 7 business days.
Can I bring in an outside caterer?
All food and beverages are available through our on-site caterer only.
Testimonials
"The Houston Zoo is the ideal place for our company picnic. It is centrally located with an abundance of activities for all-day fun. The staff and event coordinators are professional, courteous, and helpful. I am 110% satisfied!"
– Claire Groff, Burns and McDonnell
"We hosted our 14th annual family reunion cookout at the Zoo. We had the Texas style BBQ. The food was amazing! The staff and service were kind and friendly and very helpful from beginning to end. I would without hesitation host an event here again!"
– Jaqueline Camphor
"The entire experience from planning to execution was such a a pleasure. We had so much fun the day of the event. I truly believe this is because the expert planning and organization provided by Zoo staff. Our favorite part was the animal experience. Your volunteers were amazing and so knowledgeable. They also showed tremendous patience with all of our little ones! Also, the face painter was so amazing!"
– Michelle Thompson, Balfour Beatty Construction