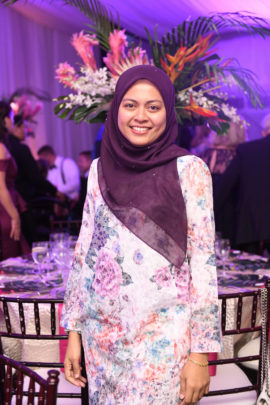 On Saturday, May 5, Zoo Ball: An Evening in Borneo Presented by Phillips 66 rose vital funds for the Houston Zoo. At this year's black-tie gala, more than 600 Houstonians celebrated the rhythm of the rainforest and raised a record-breaking $1.12 million dollars to support the zoo. This year's event, hosted by chairs Peggy Kostial and Macey Reasoner Stokes, was themed to highlight the zoo's work on the front-lines in Borneo to protect its precious wildlife, and welcomed special guest, Dr. Nurzhafarina Othman, a Malaysian scientist and Houston Zoo conservation partner.
The party-goers turned up the volume on gowns and glamour, and the zoo transformed its tented event space, Masihara Pavilion, into a colorful ballroom. City Kitchen served an island-themed, multi-course dinner beginning with sesame shrimp wonton tostada and roasted rainbow cauliflower and noodle salad, followed by succulent duck breasts in plum wine reduction over coconut rice and vegetables, and a guava pana cotta for dessert.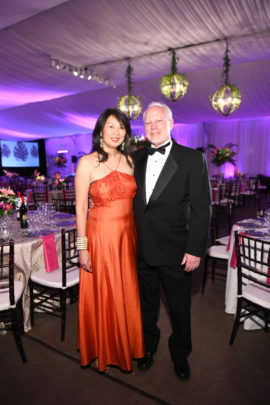 During dinner, Houston Zoo board chair, Stacy Methvin thanked the co-chairs and warmly recognized event honoree Jim Postl for his years of service as a zoo board member and his generosity as a long-standing donor. Additionally, zoo president and CEO, Lee Ehmke shared the zoo's master plan, and multi-year, $150 million-dollar fundraising campaign that will see the zoo to its 100th anniversary in 2022.
Guests bid on silent auction items during cocktail hour with the highest bid going for the Honorary Observer spot for two at the final round of the 2019 Houston Open for $3,280. After dinner, a spirited live auction called by auctioneer Logan Thomas, highlighted five very competitive items. Week-long stays in private homes on Lake Travis and Telluride went for $5,000 and $8,000, respectively. A safari to Tanzania sold for $13,000, $16,000 got a guest a week at a private villa in Tuscany, and the night's honoree, Jim Postl, won with the chance to name a wild elephant in Borneo with his donation of $21,000.
This year, the zoo's young professional's donor club, Flock, hosted the after party called Rainforest After Dark presented by Accenture. Taylor Pace Orchestra kept revelers dancing until midnight.