Every year, millions of birds migrate through Texas during peak spring and fall migration periods. This year, we've partnered with Texas Conservation Alliance (TCA) to join them in their Lights Out for Wildlife campaign. During peak migration, you can help save migratory birds by dimming non-essential lighting and closing blinds in your homes and businesses between 11 p.m. to 6 a.m.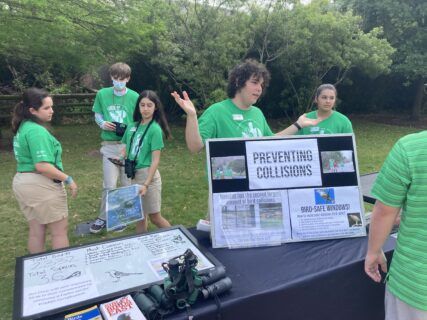 As part of this partnership, our Zoo Crew Teens program formed a Bird-Saving Campaign Committee and have committed their time to helping save migratory birds. The committee has been conducting bimonthly bird surveys on Zoo grounds to identify the native and migratory bird species that are using the Zoo as habitat during spring migration. Some interesting species they have found include yellow-rumped warblers, red-vented bulbuls, gray catbirds, red-bellied woodpeckers, and blue-gray gnatcatchers. They will be continuing these surveys through the summer and through the fall migration season.
"Being a part of the Bird-Saving campaign has helped me realize the number of issues migratory birds face in the wild especially in Houston with collisions. It has also helped me realize how easy taking action to help save migratory birds is." -Zoo Crew Maya
The committee has helped promote the Lights Out for Wildlife campaign by encouraging other teens in Zoo Crew, as well as guests of the Zoo to dim their lights during migration season to protect migrating birds. To ramp up excitement about this initiative, the committee planned a special bird-themed "Bird Day" full of activities for Zoo Crew during the month of March with the help of zookeepers on the Bird team. Bird Day included bird surveys around the Zoo, bird trivia, meeting our bird ambassador animals, and meeting with the Savanna Aviary keepers to learn how they care for birds here at the Zoo.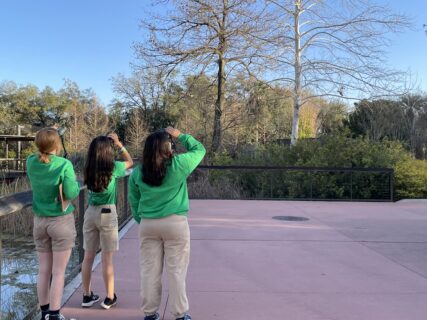 In addition, the committee talked to Zoo guests about the Lights Out for Wildlife campaign and the bird surveys they conducted in March. They then led a birding activity with guests to teach them the basics of birding.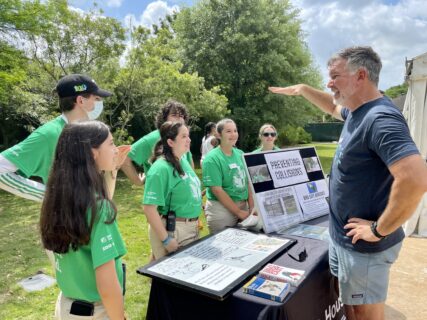 They also encouraged guests to help protect migratory birds by turning out their lights during migration season and even had several guests certify their homes right there and pledge to protect birds.