Written by Maya Kanani
Five years ago, I first stepped foot into the Brown Education Center at the Houston Zoo. I had visited the zoo as a child, but never been inside that building in particular. Visiting for orientation for Zoo Crew, I knew very few people, and was embarking on a journey unlike anything I had ever tried before. But, I am so glad I did because it led to some of the best experiences of my life.
Zoo Crew is a program which allows teenagers to learn about the inner workings of the zoo. There are numerous avenues down which they can go, including being a camp mentor, theatrical performer, a naturalist who teaches guests about specific animals, or even a junior zookeeper. Each of these paths teaches Zoo Crew members about the zoo, animals, and guest interactions.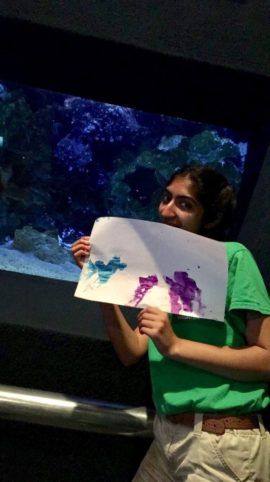 I began the program as a Camp Mentor. As a 13 year old, I was generally placed in camps with younger kids, but through my three years of working with Camp Zoofari, I gradually had the opportunity to work with a wide array of age groups and campers. My fourth year, I was selected to be a Junior Zookeeper in Kipp Aquarium. I continued in this position this past, my final, summer. The experiences taught me so much, but in addition to that, were incredibly memorable and unique.
Though I have had many, many unforgettable moments working at the zoo, the one that stands out to me most was from my last day. As I mentioned before, I worked in the aquarium, which houses the giant Pacific octopus. As a part of her enrichment, one of the things the octopus does is paint, a task which involves PVC pipe, lots of paint, and even more shrimp. As a last day gift, the keepers in the aquarium had her paint for me, and that painting, though abstract in subject matter, has so much meaning to me.
There is so much I could discuss in regards to my experiences as a part of Zoo Crew, but more than anything, I am just thankful for all of the opportunities I was given. When I found out that I was one of the recipients of the Zoo Crew scholarship, my first thought was how grateful I was that my hard work and dedication to the program had allowed me this opportunity. Everything I experienced through Zoo Crew, and now accepting this scholarship, has been nothing short of remarkable.
Through Zoo Crew, I learned, not only about conservation of habitats and animals, but also about the people who are so dedicated to protecting them. It truly opened my eyes to the impact people can play on the world when they make the effort to protect the earth, a lesson I will keep with me in all my future endeavors.
-Maya Kanani, 2017 Zoo Crew Scholarship Recipient
---
2017 Zoo Crew Scholarship Recipients
Every year, the Houston Zoo Teen Programs honors several exceptional teens from our Zoo Crew program with a $1,000 scholarship. Recipients are chosen based on their dedication and outstanding performance in the Zoo Crew program. These are teens who have dedicated countless hours of their time to educating our guests, mentoring our campers, and caring for our animals. The scholarships are funded by The Houston Zoo, Don and Diane Kendall, Karen Hinson, Bobbi Samuels, Barbara Goldfield, and generous donations from Houston Zoo Volunteers. This year we awarded five scholarships to five bright, passionate, and motivated teens. Meet the 2017 Zoo Crew scholarship recipients!
Maya Kanani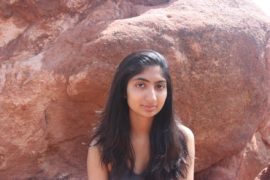 My name is Maya Kanani and I'm a senior at Bellaire High School this year. I joined Zoo Crew the summer before my eighth grade year, and have done it ever since. I began as a camp counsellor for Camp Zoofari, then transferred to working in Kipp Aquarium, which I have done for the past two years. I have loved everything about my experience as a part of the Zoo Crew team and have learned so much working with the staff there. Throughout my five years, I got to work with so many different people and animals, which opened my mind so much and led me to try new things. In college, I am looking into the liberal arts path, and possibly majoring in journalism. I have been a part of my school newspaper staff for three years, this year as both paper and online editor-in-chief, as well as been a photography student, and written for the Buzz Magazines for four years. I love both writing and photography and hope I can pursue both in college and my life after college.
---
Remi Pattyn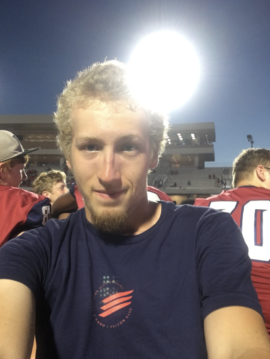 Hello, my name is Remi Pattyn and I am the first born outside of Europe in my family. I am currently entering my senior year of high school, and I plan on attending UNT or Texas State once I graduate. I've always had a passion for animals, and I've always been around zoos! As a member of Zoo Crew I have been given opportunities that very few people ever get in their lives, to follow and be a part of an organization and community that they want to spend so much of their time being a part of. Since starting my Zoo Crew career as a teen educator and just finishing this previous summer as a junior herpetology keeper, I have learned so much about myself and what I wanted to do with my future. It was getting to be around the zoo so much and getting to know some of the people that work here that has influenced my decision to get on the path towards becoming a keeper at the Houston Zoo. With the scholarship granted to me by the zoo I plan on studying ecology and/or wildlife biology in college. And with that education and my experience at the zoo I hope to return and get started on that career as a full time keeper at the Houston Zoo.
---
Julia Moacyr

Animals have always been my driving passion, as from a very young age I knew I had to work with all kinds of animals. The Zoo Crew program has solidified in my mind that after college I want to work at a zoo as a keeper in order to help take care of animals, and educate guests on the importance of conservation and wildlife. My plans are to go to Sam Houston State University and major in animal sciences, with a minor in wildlife management. I hope to intern at the Houston Zoo, while in college, and volunteer to get as much experience under my belt before graduating and applying for a job as a keeper. This program has given me some of the greatest memories I could ever have wished for, and I am very grateful to have been selected for this scholarship.
---
Emily Ostermaier
My name is Emily Ostermaier and I was honored to be a recipient of the 2017 Zoo Crew Scholarship! I am an art student at my high school and I also surf for fun! I play three instruments: piano, guitar, and clarinet. I have learned a lot while in Zoo Crew, including the need to conserve our environment and resources for the sake of the animals that share this planet with us. I also learned a lot about the care of various types of animals, ranging from the marine life in the aquarium to the primates, while being granted the opportunity to help keepers behind the scenes day-to-day. My experience here was one I will never forget. After 5 years of service, I decided that the best-fit field for me was one involving science. I am interested in pursuing a biological degree in Genetics as an undergraduate at Texas A&M University at College Station and then going onto Medical School to become a physician.
---
Sydney Han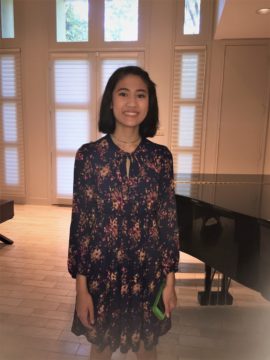 I am a senior attending the High School for the Performing and Visual Arts. There I love to play the flute, participate in STEM Club, and spend time with my friends. And although I am passionate about music, I plan to major in either Biology or Biochemistry in college (while continuing to play flute on the side). I have volunteered at the zoo for three years as a camp mentor and enjoy interacting with and teaching the kids all about the animals at the zoo. Volunteering has helped me gain a better understanding of habitat loss and the importance of conservation. It has also helped me see a future in working with kids. For the time being, I want to become a pediatrician, but I'm keeping my options open!