Written by Dena Honeycutt

---
It wouldn't be Year of the Monkey without discussing the largest monkey! Mandrills are the largest monkey and we have them at the Houston Zoo! When zoo folks talk about monkeys, we sometimes refer to where they are from; we either call them a new world monkey or an old world monkey. As the name suggests, new world refers to the "new world" of Central and South America and old world refers to Europe, Africa and Asia. Mandrills are an old world monkey from western Africa.
There is so much to say about mandrills, I thought I'd answer some common questions and comments that we get about our mandrills: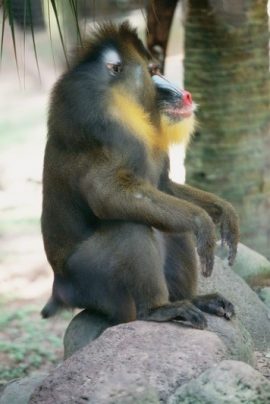 Are these apes? They don't have a tail!
Mandrills do have a tail, it is very short. Since mandrills spend most of their time on the ground and not in trees, they don't really need a long tail. Tails are used by monkeys to help them balance themselves while walking or running on branches.
And the male's behind is very colorful!
And yes, male mandrills are very colorful on both ends and there is a good reason for that. In the wild mandrills live in dense forests and in very large groups with both males and females. As they travel, the males will lead and bring up the rear of the group. Predators such as leopards are more successful if they attack quickly from behind. The coloration of the male mandrills face and behind are the same pattern so as to confuse predators as to which end is facing them.  Pretty cool, right?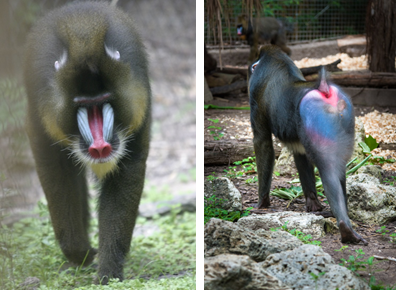 Oh and the males have really big canine teeth…