Hey, everyone! It's my favorite time of year again: Zoo Boo! Zoo Boo would not be complete without Howlerween. Howlerween you say? Are you sure you don't mean Halloween? Nope! Here at the Houston Zoo we have been calling it Howlerween for the last 7 years. Howlerween is a cool play on the Halloween season, but it features Howler monkeys!
This is the perfect time to learn all about our prehensile-tailed relatives that live in the Wortham World of Primates. Come out and earn a special conservation hero button that you can only get at Howlerween! To do this you must join Zoe the Zookeeper as she navigates her way through 4 activities focusing on the rehabilitation and release process: picking a good habitat, preparing the animals for release, releasing the animals and monitoring the animals. You will also learn about sea turtles, Houston toads and Attwater's prairie chickens as they go through these steps!
In addition, every Howlerween we help raise funds for a sanctuary in Belize called Wildtracks. This is a non-profit organization that helps to rehabilitate howler monkeys that people thought would make good pets. In Belize it is illegal to have a howler monkey as a pet so if you do, that animal will get confiscated by the Belizean Forestry Department and then taken to Wildtracks. There, they help sick and injured howler monkeys by giving them medical care and putting them in a troupe so they have lifelong friends. Eventually after a lot of hard work, they relocate them and put them back into the wild in a protected part of the forest. This is an amazing feat!

The Houston zoo has been helping Wildtracks with monetary donations since 2010, and the first year we were only able to send about $500, which for a non-profit is still a good chunk of money. Last year we were able to send over $3,000!!!! Our goal every year is to keep making that number go higher. They use this money to help fund the release itself; for example, buying transport crates and helping to feed the monkeys while they transition to being in the wild. We not only send them money, we also are able to send our own staff including primate keepers, education, and conservation staff to Wildtracks. There, we help them with monkey husbandry (care) and we both learn from each other.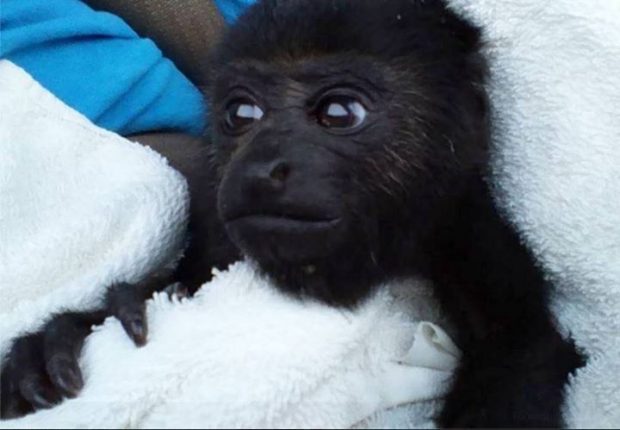 Wildtracks has accomplished many amazing things over the last six years. They have just rescued their 100th monkey, have released 49 monkeys back into the wild, and have had 13 babies born in the wild to mothers that were rescued! Their most recent howler monkey rescue was injured multiple times by an air riffle pellet gun and will need a lot of medical care going forward. Their goal is to never have to rescue a monkey again, which they can only do by educating the people of Belize about the natural treasures they have in their backyards. That the monkeys are comfortable enough to have babies in the wild is a true testament to the amazing work they do. They currently have 46 monkeys that they still have to rehabilitate and will eventually release.
Wildtracks is just one conservation effort that the Houston zoo has its hands in right now. So come on out and learn with Zoe the zookeeper on how else to help save animals in the wild. You will find her by our duck lake, right next to the Wortham World of Primates during Zoo Boo.