Here in the Conservation Education Department at the Houston Zoo, we say that ANYONE can be a champion for wildlife and use their skill set to save our wild spaces.  Whether you are an ecologist or an accountant; a biologist or a carpenter; everyone can contribute something to the cause!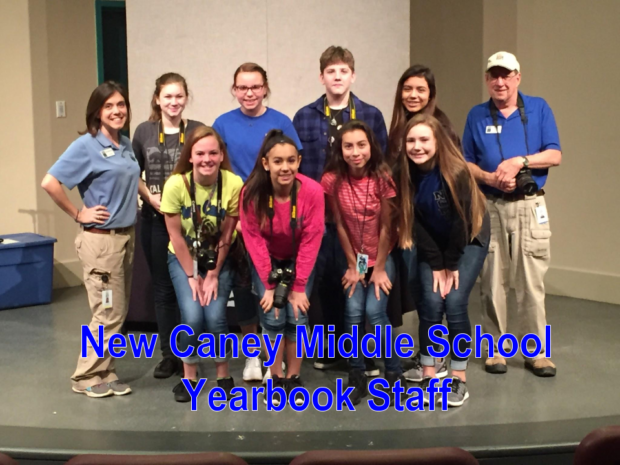 Recently, Ms. Charlotte Schilten the Yearbook Sponsor for New Caney Middle School, reached out to the Houston Zoo to see if there would be an opportunity for yearbook students to come learn from one of photographers here at the Zoo on the best way to use their new cameras.  The New Caney School district has an educational foundation that awards grants for educators with exceptional, innovative ideas. This year, Ms. Schilten was one of 3 teachers from her campus to be awarded a grant which allowed the campus to purchase 5 new cameras, including memory and zoom lenses, for her students.
Immediately after receiving Ms. Schilten's email, I had the thought: "What an awesome opportunity to pair this awesome group of students with one of our amazing photographers here at the Zoo while helping them see that even a skill such as photography can be used in the field of conservation!"  I set to work arranging everyone's schedule and getting the day organized.
The yearbook students, along with Ms. Schilten, came to the zoo on January 24th.  They were able to spend some time with one of our amazing volunteer photographers, Dale Martin.  He showed them different ways to use their cameras, some things to always keep in mind when photographing animals, and some of the tricks he uses photographing animals here at the zoo.  The students then got to practice on the Ambassador Animals that I brought for them to photograph.
Here are some of the students' favorite photos that they took.
Photo credit: Abby Rojas

"I really enjoyed going to the Houston Zoo. It turned out to be better than I thought it was going to be. My favorite part of that experience was when they brought out some animals and the talked about them. I had a really great time, and I hope we get to do this again. Thank you for allowing us to have that trip, and hopefully we will see you again."

Photo credit: Grace Gideon

"The zoo to us wasn't just a place to mess around and look at animals, it was a place to teach us how to look at the real beauty in photography."

Photo credit: Jackie Walters

"I enjoyed the zoo so much! It was such a great experience to see and take pictures of the animals. I also learned so much from this trip!"

Photo credit: James Watson

"The trip itself was more amazing than I thought it was going to be in the first place! But my favorite part was when they brought out the animals. I knew they were going to be bring out them out, but it was so amazing to see such beautiful animal, and it was great to practice on moving subjects!  I had an amazing time and I hope we get to do something like this again sometime soon!"

Photo credit: McKinlee Lucas

Thank you to the Houston Zoo for this experience in using our new cameras to photograph the animals. I learned that day so much about photography that will definitely help me in the future. This something I would do again and recommend for other students.

Photo credit: Valerie Morales

"I enjoyed capturing the different moments in the animals lives and it was a very new and exciting experience. Thank you for giving us the chance to go."

Photo credit: Ashlynn Cantu

"Going to the Houston Zoo was a great experience to have for yearbook. I loved being involved with the animals and getting to be a part of their day. I learned a lot that day about the cameras. I'm glad I got to have that experience, and I hope we can visit again soon.