Zoo News Blog
Whistle While You Work – Zoo Volunteers Are Awesome
Written by Tammy Buhrmester
Santa Claus may have a workshop full of elves, but that is no comparison to the Houston Zoo Volunteers!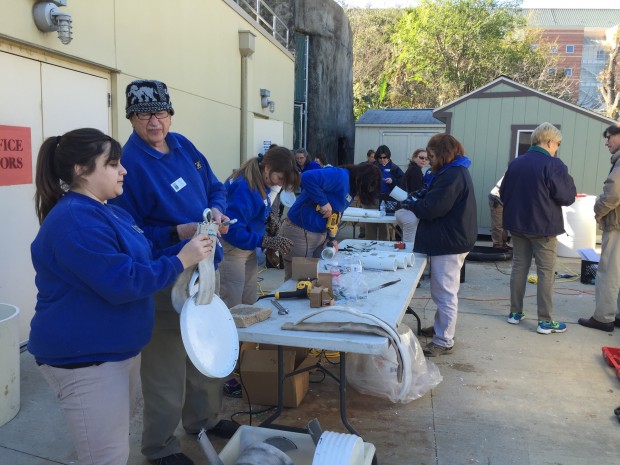 Recently, on a cool Saturday morning, a group of Houston Zoo Volunteers and the primate department worked together during an enrichment workshop to construct enrichment for the primates. Twenty volunteers and two staff members gathered together from 9:00AM-1:00PM, making enrichment of all sizes and shapes, out of many different materials.
The four hours consisted of the volunteers dividing up into groups of two or three and following "recipe cards," which guided them in making the enrichment items. The "recipe cards" consisted of ingredients (supplies needed), step-by-step instructions, and pictures of the final product. The construction of the "toys" consisted of measuring, drilling, sawing, PVC cutting, weaving, filing, cutting fire hose and chopping wood. Some volunteers came prepared with drills in hand. All these materials had been prepared by primate keepers prior to the workshop.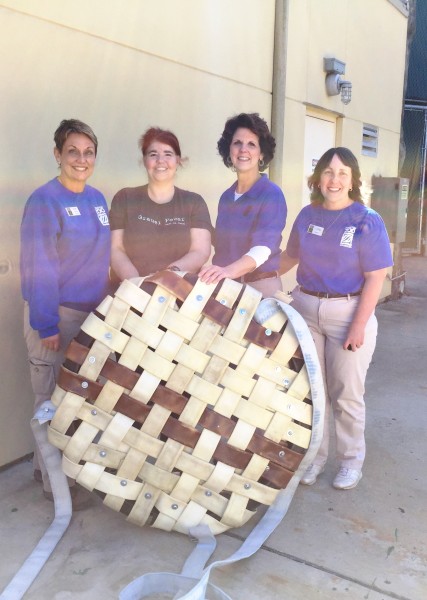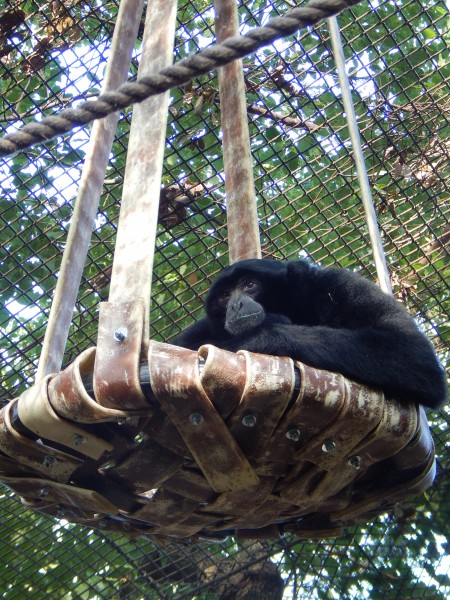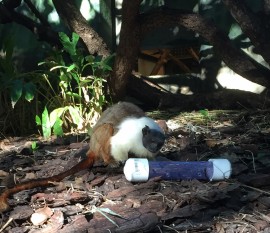 You may wonder why we are making "toys" for the primates. The main reason is for enrichment. Enrichment means encouraging an animal's natural response by stimulating natural instincts and behavior. The items that were made encourage the use of their natural behaviors to get a treat that is placed inside, or smeared on the item. They might have to roll a clear tube to get the worms, nuts or currants out. They may have to find a stick in their enclosure to access the peanut butter or yogurt that is smeared on or in the lid or in holes made in large blocks of plastic. The apes will have to think about how to twist and turn their PVC puzzle feeders to line up the holes in order to get the treat out of the puzzle. The lemurs have to figure out how to open up a coconut that was split in half and hung on a rope to get the peanut out. It is all about them being active and encouraging them to use their innate instincts to get the treat out.
After the four hours were up, the volunteers made 235 enrichment items consisting of: 25 boomer balls, 10 nut rollers, 10 coconut puzzles, 20 lid fishers, 3 spinners, 20 cutting board puzzles, 34 treat logs, 100 foraging boards, 7 ape twist and turn puzzle feeders and one large spinning hoop hammock.
All this equals: tons of fun!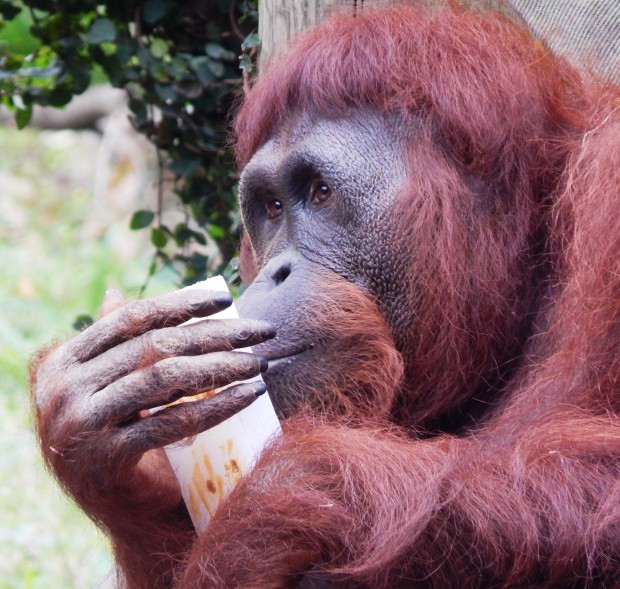 These items will allow the primates and the babirusa hours of fun for a very long time. Without the volunteers, it would not have been possible to make all of these "toys" so quickly.
Houston Zoo Volunteers rock!
We thank you, and our animals do, too!