Written by Jennifer Urda
---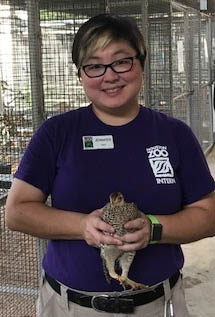 Hello, my name is Jennifer Urda and I am just finishing a veterinary research internship involving the Attwater's Prairie Chicken. I will be starting my second year of veterinary school at Midwestern University in Arizona in the fall. The Houston Zoo is like a second home to me, as I have spent the previous three summers here as an intern in two different departments (Birds and Children's Zoo) and also as a seasonal zookeeper for the Attwater's Prairie Chickens. Every summer I've spent here has been incredible; I've truly gained invaluable experience and knowledge associated with the husbandry and care of the species in the Zoo's collection as well as made valuable friendships. I am incredibly honored and proud to have had the opportunity to intern with the veterinary clinic this summer and would like to share some of my experiences in hopes of creating awareness for other current and future veterinary students that might like to apply to this program. This internship is one of two the Houston Zoo offers (the other internship involves the Houston Toads) to first and second year veterinary students, which makes it very unique as most other AZA accredited institutions only accept students on their clinical rotations.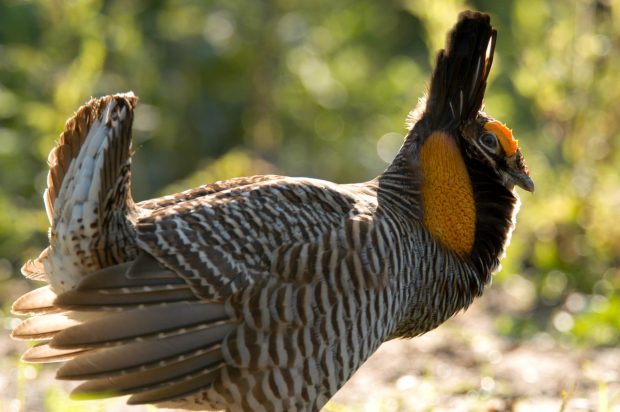 First, I'd like to talk about the Attwater's Prairie Chicken (APC). The Attwater's Prairie Chicken is a critically endangered species of grouse (not a chicken!) found only in the coastal prairies of Texas. About 100 years ago, there were once around 1 million of these birds between the Texas and Louisiana coastal prairies, but throughout the 20th century their numbers began to dwindle, largely due to habitat destruction; there are estimated to be less than 100 APCs left in the wild today. Thankfully, the Houston Zoo is part of a captive breeding program for these rare birds, and birds that are eligible for release in the late summer are slowly introduced back into the wild.
As the APC veterinary intern, I am largely responsible for administering medical treatments on the growing prairie chickens. These birds can be challenging to raise and often require medical care such as administering fluids via injection and antibiotics as well as tube feeding food, sometimes up to three times a day. I am also responsible for inputting the medical records on these birds, recording my observations, and discussing treatment plans and options with the veterinarians at the Zoo. As a large component of my internship involves research, I was able to pick a topic that would be both beneficial to the Zoo and the preservation of the species, so much of my time was also spent in this manner. Additionally, I have had some opportunities to shadow the Zoo's veterinarians and participate in other procedures such as drawing blood from a duck and giving routine vaccinations. In the coming months I hope to submit a scientific paper to Journal of Zoo and Wildlife Medicine regarding the findings of my research over the summer.
The veterinary hospital staff is an amazing team, and I've learned so much from every single one of them; all are incredibly passionate about their work and the Houston Zoo's message of conservation and education. I know that the experience I have gained here as well as the connections I've made will be valuable in my future as a veterinarian. I highly recommend any first or second year veterinary student with a passion for conservation or zoo and wildlife medicine to apply — the experience and mentoring you will receive is phenomenal.