The Houston Zoo has a new website! We hope you enjoy this enhanced digital experience as you discover more about our animals and how we help save them in the wild. This completely renovated site is the result of the collaboration of many staff throughout the Zoo and the talent of web design firm Creative Slice.
More than three million people a year visit our website, with 2 out of 3 using your mobile phones to view our site. Now you have a mobile-first design that ensures you get a high quality experience on your phone and can find what you need easily. And for those who visit on a computer, we have some awesome extras like our new homepage video and big beautiful photos of our animals.

The brand new Daily Schedule is a key feature – check it out! There's a handy preview on our new homepage, and the entire schedule is on it's own page that you can easily pull up during your visit to the Zoo. Photos, descriptions and locations help you find the next upcoming talk, show or feeding and see what's happening later in the day.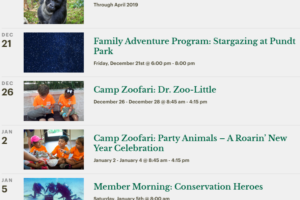 Other key features include the completely redesigned Calendar of Events with upcoming events and programs. Our News blog is now integrated throughout the site, so you'll discover relevant news and updates as you browse animals and programs. And don't forget to Explore the Zoo to see the new descriptions of our animals! That's just a few of the many updates and enhancements.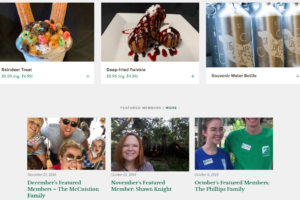 And we have kept the things that are important to you – for example the Member Exclusives page with special content just for our awesome Zoo members!
Have a question? Please drop us a line! We'd love to hear your thoughts and feedback: