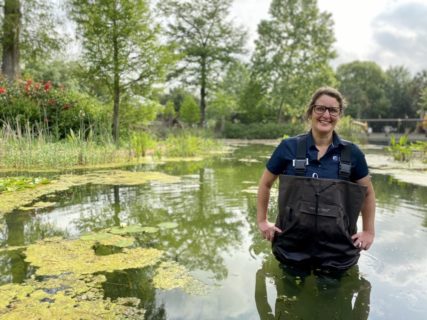 Water Quality? What the heck does that department do, anyway? From aquatic life support systems to chemistry to ecology, this blog series offers a closer look into the Zoo's most mysterious department…
Hello, Houston and beyond, we are so excited to see you in the near future!
While you were away, the Kathrine G. McGovern Texas Wetlands exhibit turned ONE! We have seen our 40+ species of native plants grow by leaps and bounds and have attracted over 100 different types of wild animals (and counting) to our amazing functional ecosystem over the past year.
Since you were not able to be here in person for the past couple of months, I wanted to give all of you a glimpse of some of our beautiful flowering wetland plants. While you will still be able to see many of our natives blooming throughout the summer and fall, a few species have a very brief spring flowering time. You can see photos of a couple of them below and you can certainly catch them in person next spring.
Southern Blue Flag (Iris virginica)
These native Iris are planted in the Spiral Eddy next to the Cypress Circle Cafe; they are one of the first wetland plants to bloom in March. We had American Bumblebees visit these lovely purple flowers every day! The flowers may be gone for the year, but you can still see the large seed pods that will give us even more plants for next year.
Texas Spider Lily (Hymenocallis liriosme)
This beauty started blooming in late April and is starting to wind down. The blooms are somewhat spider-like in appearance with webbing between the stamens ⁠— the flowers are fragrant and very showy at over 6" in diameter. They are frequented by nocturnal moths.
Aquatic Milkweed (Asclepias perennis)
This species should bloom all summer, but it may be a while before we see more flowers… the monarchs quickly discovered it, laid eggs on it, and the caterpillars devoured everything but the stems! Not to worry, it will recover and we will plant more around the exhibit this summer.
Golden Canna (Canna flaccida)
This plant just started its summer blooming season, and wow, look at those pretty, buttery yellow flowers! Golden Canna is easy to identify with its light green leaves; the blooms have plenty of nectar and pollen for bees and butterflies and are lightly fragrant. This plant also serves as a host plant for skipper caterpillars.
Pickerelweed (Pontedaria cordata)
This wonderful plant blooms in all but the coldest months. The striking purple flower spikes are a bee and butterfly magnet! If you love insect-watching, be sure to camp out in front of a group of Pickerelweed plants and observe for a spell. Later in the summer, when dragonfly numbers and diversity increase, the flower spikes are also a highly sought after perch.
It is truly amazing how by simply providing water and native plants, you can attract such an abundance of cool creatures ⁠— even in the big city! Did you know that you can help restore wetland habitat and have a direct impact on conservation at home? Large or small scale, it all helps ⁠— it's so rewarding to keep track the species you are helping and make a real connection with nature in your own backyard. 🐝