This post written by Mike Fannin, Manager, Life Support Systems
Life Support Systems?! What the heck does that department do?  From filtration to chemistry, this blog series is a behind the scenes look into the Zoo's most mysterious department.

---
Part I: Koi Stream in the John P. McGovern Children's Zoo
As anyone with a pond knows, the battle to keep things looking good is a never-ending one. Water can turn green overnight, making it difficult to see fish, and a thick carpet of slime can appear, seemingly out of nowhere. Both of these situations arise from some sort of imbalance in the pond, but the culprit is the same – algae.
There are tens of thousands of types of algae in natural aquatic systems. Mother Nature keeps them in check (just like all other species on the planet) as other organisms compete for resources, food and living space. Man-made water features are not as diverse as they are in nature, so there is little to no competitive pressure; in an outdoor pond, algae are often free to run wild.
This was the case with the newly renovated Koi Stream feature in the Children's Zoo. The filtration system was upgraded, which made quick work of the single-celled algae that is able to turn clear water into pea soup, but hair algae is not so easily controlled – it is not suspended in the water like the single-celled varieties. If left unchecked, it grows on everything, trapping detritus (such as leaves and leftover food), slowing water flow and clogging filter intakes. In short, it can be an aquatic nightmare.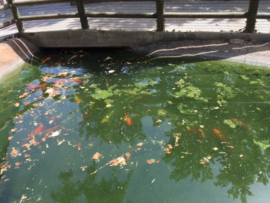 So… what to do? There are a lot of chemicals that can be added to the water to kill algae, but none will permanently solve the problem. In fact, most will end up spawning even more problems! Here at the Houston Zoo, we prefer to work smarter and do things naturally; we needed to create more biological diversity in our aquatic habitat, and we decided that a great start was the addition of a teeny tiny invertebrate, the amphipod.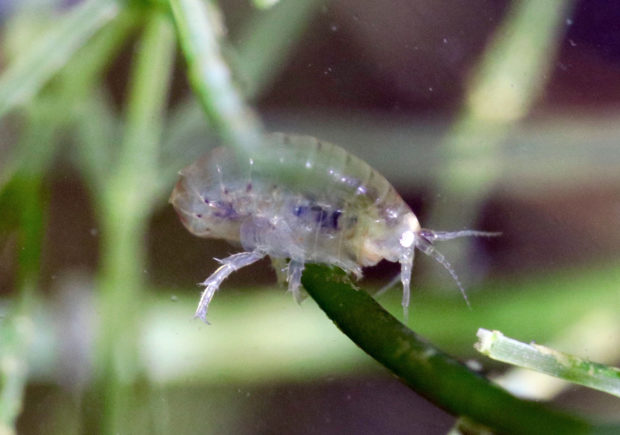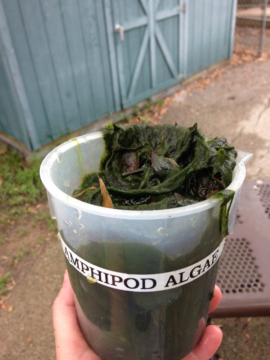 Amphipods are micro-crustaceans found in aquatic environments all over the world and vary widely in their habits. Some eat plants, others are scavengers, some are fierce predators, and some are even parasites. We needed a plant-eating species to tackle our algae issues, so with a few ampiphods donated by a Zoo volunteer, we began with a 600mL beaker of water with a sprig of aquatic plant and dead oak leaves to hide in. We offered these amphipods different types of algae found in various aquatic systems throughout the Zoo, but they didn't seem to like any of it… we would have to try another species of ampiphod. Next, we collected a different species of amphipod from the Zoo's Reflection Pool and offered them the same array of algae that we gave the first group – they didn't seem to care for anything until we gave them hair algae from the Koi Stream, which they ate immediately.  We continued to offer Koi Stream algae over the next couple of weeks to make sure the novelty didn't wear off.  Not only were the amphipods devouring the algae, they were growing and reproducing – SUCCESS!
Now that we had found the type of amphipod to address our algae situation, we needed a lot more of them. Three, twenty gallon amphipod breeding aquariums were set up in a secret location (not many amphipods get to have gorillas for neighbors!) We added sponge filters, submersible heaters, and plants, plus leaf litter to make their new home complete. Then, we divided our small colony between the three tanks and added a few dozen individuals from the Reflection Pool to supplement the population.  Once a week, we harvested hair algae from the Koi Stream to feed our new friends and within a few months, the population exploded into the thousands! Now we had the numbers to keep the Koi Stream algae under control, but we didn't have the habitat to support this large population of hungry crustaceans… We couldn't put them to work until they had a place to call home.
Amphipods can easily swim around to search for food, but the adults and young need small, confined spaces to hide in. Their preferences are dense aquatic plants (especially the roots) and leaf litter. Leaf litter wasn't a good choice for us because it could interfere with our ability to keep the filtration system running smoothly. The Koi Stream has some natural hiding spots, but not enough for the number of amphipods we need to effectively control algae. And plants? Sometimes it's difficult to establish plants in a koi system because koi love to eat plants!
We needed something that would support aquatic plant life while somehow keeping the plants away from the fish, that would also conform to the long narrow shape of our koi exhibit. "Floating islands," which are planters that float on the water's surface, allowing plant roots easy access to stream water were our best choice. Not only was this the answer to all the needs listed above, but the dense mesh that makes up the islands also provides ample habitat for our amphipods!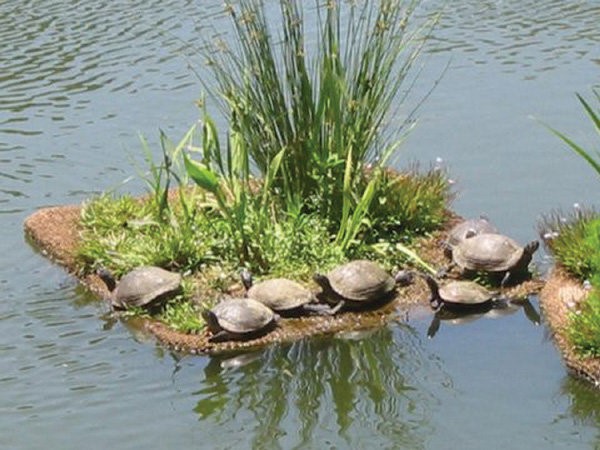 As mentioned before, nature is all about balance. Waste products generated by fish supply nutrients for plant life, and the more fish you have in a body of water, the more nutrients are available. By adding more plants to our koi system, we limit the nutrients available to algae since they are in direct competition with the plants for food. The plants (and floating islands themselves) will also create shade, which will help decrease algal growth, since the algae typically prefers direct sun. Adding voracious algae-eaters, our army of amphipods, will ensure that any hair algae that does manage to grow in the stream will be kept under control. The expected result will be a healthy, well-balanced exhibit with crystal clear water, using nothing but simple filtration and biodiversity.
Be sure and visit often to monitor our improvements to the Zoo's outdoor aquatic systems – and stay tuned for floating planter updates and photos in our next blog entry, Children's Zoo Koi Stream: Part II!
---
The beautification of the Koi Stream in the John P. McGovern Children's Zoo is an ongoing team project between the Houston Zoo Water Quality department, Horticulture department and Children's Zoo husbandry staff.