Written by Heidi Garbe, Houston Zoo Volunteer Coordinator
---
Volunteers help at the zoo in so many ways, but recently, they truly went above and beyond. Every two years, our Volunteer Fundraising Committee runs a unique auction to raise funds for conservation. Over several months, volunteers are asked to collect new t-shirts from conservation-related places they visit (from zoos to national parks, and everything in between) for an end-of-year auction.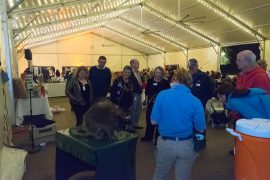 Our Volunteer Fundraising Committee organizes volunteer-based financial support, offering funding for staff working on conservation programs as well as directly to our zoo field partners. Late in 2016, volunteers voted in advance where t-shirt auction funds should go and settled on Ecology Project International based in the Galapagos, which empowers youth to advance their education and take active roles in conservation.
At the Volunteer's holiday gathering in December, over 60 t-shirts had been collected and put on display. These shirts, along with a few other small auction items, raised $1,255! This amount is remarkable in itself, but even more impressive is that it was driven completely by Volunteers, from individuals purchasing t-shirts to donate, to voting on the organization to support, and from the Volunteers organizing the auction, to those that participated by buying items.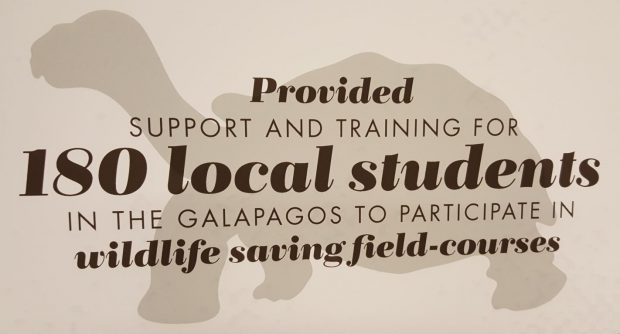 Karen Hinson, the chair for the Volunteer Fundraising Committee, notes "Year after year, the generosity of our volunteers never ceases to amaze me. Not only did they purchase the t-shirts to donate for the auction but in many instances they turned around and bought at the auction. A special thank you to one volunteer who purchased the ten remaining t-shirts at minimum bid. This is just another example how dedicated the volunteers are to supporting the zoo's conservation partners in the wild."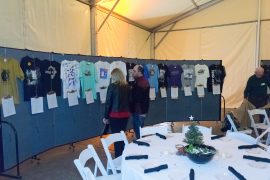 In addition, many volunteers purchased gifts for our zoo animals through wish lists created by our animal teams. Our animals brought in 2017 with a variety of new enrichment items thanks to our caring volunteers! This "Giving Tree" of wish list items was facilitated by Volunteer Enrichment Committee chair Heather Simm.
This is a truly passionate group of individuals and we're so glad they have joined our efforts to conserve the animals we all care so deeply about saving. Way to go Houston Zoo Volunteers! Making a difference here at the zoo and around the world.