Zoo News Blog
Valentine's Day Keeper Showdown – Who Makes the Best Enrichment?
Written by Nina Russo

---
Roses are red
Violets are blue
This Valentine's Day
I'll be at the Zoo!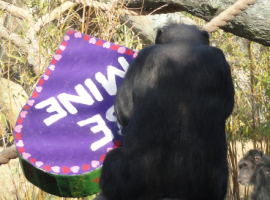 What's going on this Valentine's Day that's fun for the animals, zoo keepers, and you? The animals are getting wildly fun Valentine's Day themed enrichment this year. Enrichment is anything added to the animal's environment or routine that encourages natural behaviors, more choices, and novel challenges.  Dried treats inside a papier-mache Valentine's heart was certainly novel for our resident chimpanzees the past.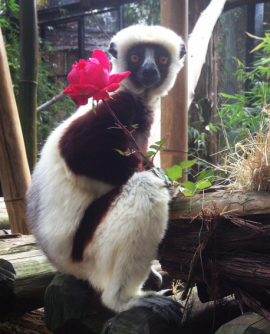 Enrichment keeps the animals mentally engaged, physically active, and happy. It's something keepers work into the animals' daily routine; but sometimes we like to put our creative enrichment skills to the test! The Houston Zoo's Primate Department is holding an enrichment contest for the keepers. The rules: the enrichment has to be Valentine's Day themed, animal safe, and completely fun!
Stop by the Houston Zoo with your Valentine and see all the wild things the animals will be getting!