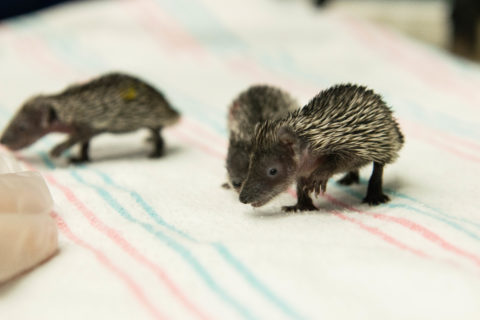 It's cuteness times three! On Tuesday, June 16, three Madagascar lesser hedgehog tenrecs were born at 11:00 a.m. The tiny newborns weighed only 10 grams (small enough to fit on a small spoon!) at birth and have since doubled their weight. The genders of the newborns have yet to be confirmed.  
The tenrecs were born to mom Ninerec and dad Jonah. This was a first-time pregnancy for Ninerec, and the first litter born at the Houston Zoo. When the team arrived to work on the morning of June 16, they discovered mom was in labor and likely had been in labor most of the night since tenrecs usually give birth overnight. Zoo veterinarians examined Ninerec and concluded she wouldn't be able to give birth to her young naturally. The team quickly prepared themselves and mom for an emergency caesarian. The vet team performing the surgery did an amazing job, and while Ninerec did well during the procedure, sadly she passed away two days later. The animal and vet teams jumped in to take on the role of mom to care for the baby tenrecs.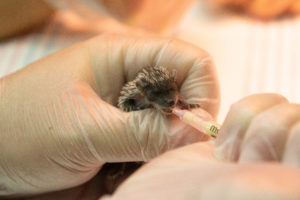 The animal care team is working around the clock acting as mom. This includes feeding them every few hours, ensuring they're eating properly, and watching for growth milestones to be reached. Eating and  napping is the life of a baby tenrec, and the zookeepers and veterinarians are there for it all. The babies have daily check-ups with the veterinarians to ensure they are meeting weight and measurement goals. This ongoing caregiving has allowed the teams to get to know each new baby tenrec individually and learning how different they are from each other.  
They'll continue bottle feeding the babies until they are about a month old. At that time, the tenrecs will begin eating solid foods on their own, and the animal care teams will continue closely monitoring them daily.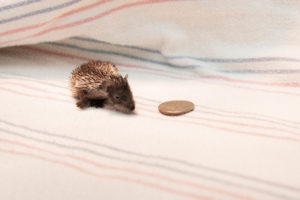 The tenrecs at the Houston Zoo live behind the Children's Zoo and participate in educational programs and keeper talks. They are ambassador animals helping to educate guests the importance of saving their counterparts, and other animals, around the world.  
In the wild, tenrecs are primarily found on the island of Madagascar, though some species are found in western Africa. Their small, stout bodies are similar to hedgehogs, hence their name – lesser hedgehog tenrecs. These tenrecs are both terrestrial and arboreal; they are excellent climbers and will often spend daytime hours resting in a hollow tree. Though their populations are currently stable in the wild, habitat loss in Madagascar is an ongoing threat.  
As a consumer, you can help protect tenrecs and their habitat in the wild by purchasing sustainable and responsibly made products, like recycled-content toilet paper or locally sourced lumber. Simply by visiting the Houston Zoo, guests also help save tenrecs in the wild as a portion of every admission ticket and membership is donated to conservation efforts around the world, including Madagascar.