As the world celebrated the closing ceremonies at the Rio Olympics on Sunday, we wanted to celebrate an amazing species that calls South America home – the tapir. Just as the USA's medal count kept going up, so does the number of tapirs that have received a tracking collar for research with the Houston Zoo's help. Since we started working with our tapir conservation partner, 57 tapirs have received a tracking collar. These tracking collars provide critical information for protecting tapirs in the wild.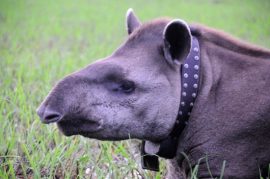 Tapirs are the largest land mammal in South America with females weighing up to 700 pounds! There are four species of tapir in the world, with three of the four species found in Latin America – Baird's, lowland, and mountain. The fourth species, the Malayan tapir, is found in Southeast Asia. Here at the Houston Zoo, we have a family of Baird's tapir. This endangered animal is native to Central America.
At the Houston Zoo, we work to save tapirs in the wild through a partnership with the Tapir Specialist Group. It is a global group of biologists, zoo professionals, researchers and advocates dedicated to conserving tapirs and their habitat. The Houston Zoo works closely with this group's Chair, Patricia Medici, to support a Lowland Tapir Project in Brazil.
Since the Olympic games were in Brazil, Patricia Medici participated in the Olympic torch route on June 26 through the city of Rio Brilhante.
The Houston Zoo also supports our partner with an event called Tapirs Helping Tapirs. For this event, Houston Zoo tapirs paint canvases that are sent to Brazil to be sold in a huge art exhibit to raise funds for protecting wild tapirs. This past April, we held a World Tapir Day event here at the zoo. This event had activities, a photo-op, and sold conservation items to benefit our conservation partner's work saving tapirs in the wild.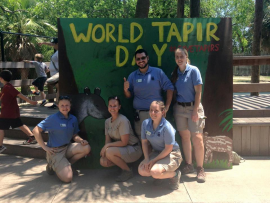 To learn more about tapirs, come see the family of tapirs at the Houston Zoo, or visit houstonzoo.org/save-wildlife/.