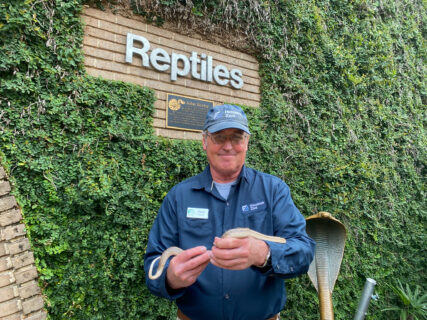 40 years ago, today, our curator of herpetology and entomology, Stan Mays, began his first day at the Houston Zoo. It was a pretty easy decision when it came time for Stan to decide what type of career path he wanted to take — he's always been interested in zoology and started out as a volunteer at the Tulsa Zoo, where he did an intern project for his senior year in high school. The Houston Zoo is the third zoo he's worked at, previously worked in maintenance at Tulsa Zoo and then large mammals at San Antonio Zoo. Stan started out as a large mammal zookeeper, then moved to small mammals, and then herpetology, where he became the curator in 1998.
One of Stan's favorite things about working at a Zoo is all of the cool animals and that no day is boring – there's always something going on.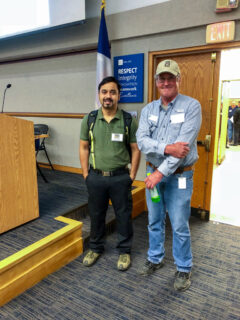 In his current role, he manages the herpetology and entomology sections of the Zoo, as well as oversees the Houston toad recovery program, which initially ran from 1981-1988, but halted due to a lack of funding. The Zoo became re-engaged in Houston toad conservation in 2007 after population studies estimated there were no more than 250 individuals left in the wild. The program shifted gears in 2013 when we launched a new groundbreaking strategy of releasing egg strands rather than head started toadlets. This technique now serves as the benchmark of success among wildlife restoration efforts.
His other duties include exchanging animals with other zoos, making sure that the sections under my area all have the necessary supplies to ensure that everyone can do their jobs properly, managing budgets, and maintaining the Zoo's antivenom inventory just to name a few.
Stan shares, "My favorite animals are usually the ones that I'm working with at that moment. I find all of them fascinating, but if I had to pick out a particular group of animals as a favorite, I would pick rattlesnakes; they are such marvels of evolution. They are also some of the most polite animals around; they will actually let you know when you are getting too close. I also really like monitor lizards, especially the crocodile monitors — they are so intelligent and active. Of course, crocodilians are pretty neat, too."
During his 40 years, Stan is most proud of his wife and daughter, who also work at the Houston Zoo. He met his wife, Phyllis, here at the Zoo, and she's the manager of the Animal Nutrition department while his daughter, Memory, is a hoofstock keeper. It's a family affair!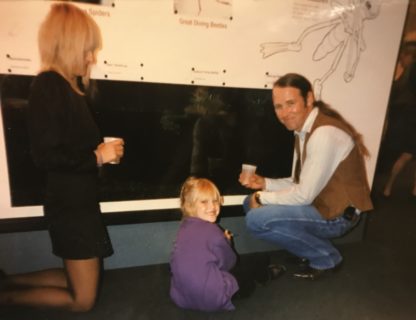 Career-wise, Stan is honored to be a part of the Aruba Island rattlesnake Species Survival Plan® (SSP) and the Houston toad recovery program. With only an estimated 225 adults left in the wild today, this snake was the first to be listed as an SSP species by the Association of Zoos and Aquariums (AZA) in 1982. The Houston Zoo was responsible for the formation of this SSP and has played a crucial role in the conservation of this snake species.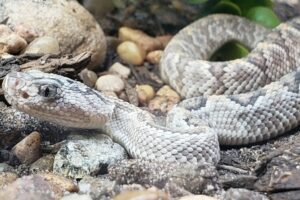 Outside of work, Stan has stayed busy as an adjunct professor at San Jacinto College South for 31 years. He's taught zoology, botany, and biology I and II. Stan also has taught herpetology at Rice University and University of Houston-Clear Lake.
The Zoo's general curator, Kevin Hodge, shares, "Stan was the first person I met at the Zoo. He gave me a tour of the herpetology building when I was working at Moody Gardens and took the time to show me all of the back of house space. I was amazed at his reptile and amphibian knowledge and you could tell he really loved his job!"
Please join us in congratulating Stan on 40 years of service at the Houston Zoo!