Zoo News Blog
Staff Saving Wildlife in the Mariana Islands (Part 5)!
This blog was written by Steve Howard, a member of the Zoo's Bird Department. Steve Howard received a Staff Conservation Fund grant from his coworkers at the Houston Zoo to carry out a wildlife-saving project for birds in the Mariana Islands (a chain of islands in the western North Pacific Ocean). We will be posting a series of blogs as Steve documents his work overseas. 
Hello again From the Commonwealth of the Northern Mariana Islands!
Netting the birds is going well. We now have 54 Tinian Monarchs and 28 Bridled Whited Eyes in our bird holding room. We'll collect another 25 White-eyes to reach our goal numbers. While we have the birds, they are maintained in small boxes, fed and monitored by zookeepers and veterinarians working on the project. Any bird not doing well, is overly stressed or appears to be going downhill is released where it was trapped.
While in holding, the birds are weighed daily to monitor how well they are eating. They are also given a full exam, including drawing blood for diagnostic blood work. The boxes have a perch attached to a bar on top of the box. The bar is lifted up and a scale put under it, so that when the bird sits on the perch it can be weighed. This allows us to monitor the weight and not stress the bird. This picture shows the perch and the bar on top that the scale goes under.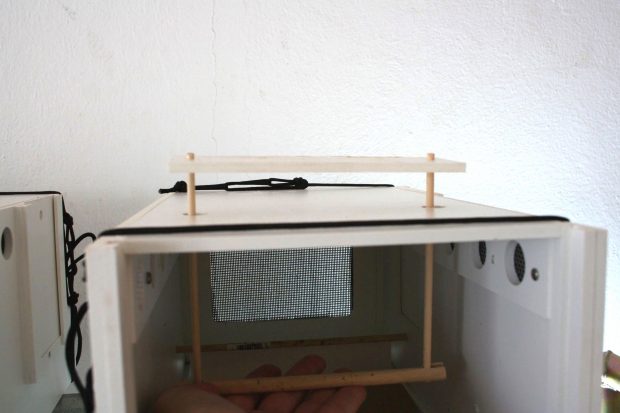 But my part is more simple; prepare diets, clean the boxes, feed the birds and do the dishes. While the boxes are cleaned, we prepare the diets and then feed the birds. It may not seem it, but this is still part of the overall conservation effort, and an important part of maintaining the bird. And there are a lot of dishes to clean and birds to feed!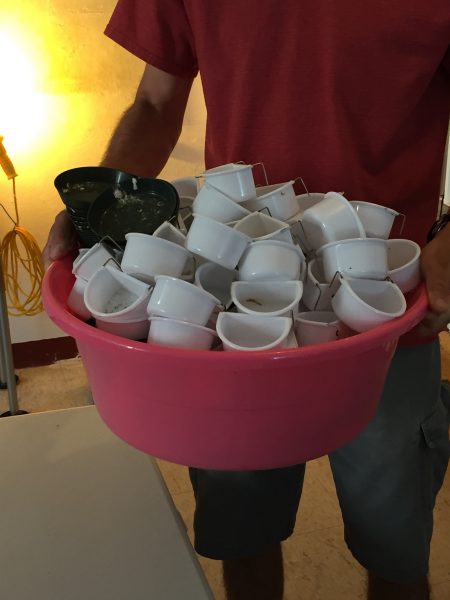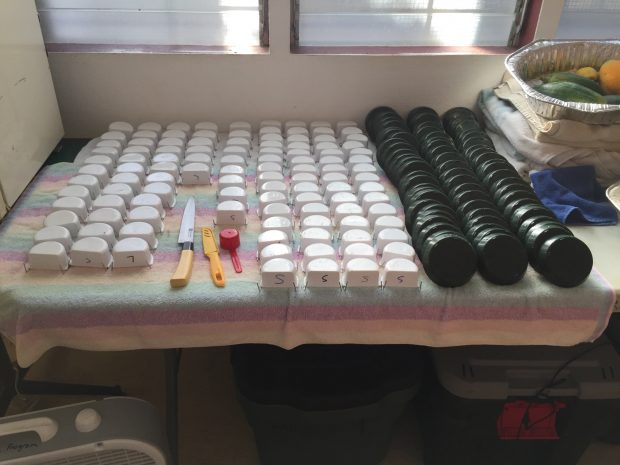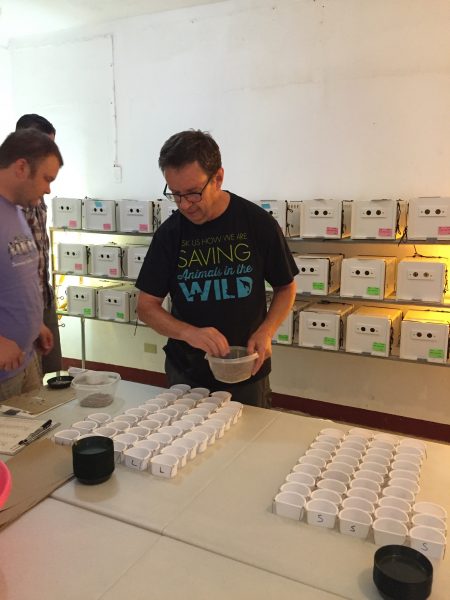 So we're getting closer to the day of release, when the birds we've collected will be moved to Guguan Island, north of the island of Tinian. In the meantime, I got to talk to some elementary school children about our project. More about that later!
To find out more about our Houston Zoo staff saving wildlife, click here.