Baby boom! We're thrilled to share that earlier this month, our hoofstock team welcomed two new calves: Marvin the eastern bongo and Cadbury the yellow-backed duiker.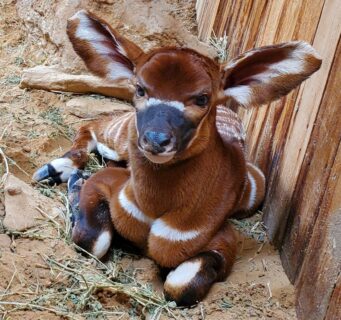 Meet Marvin the Eastern Bongo
A healthy male bongo was born April 8 to mom Lily and dad Bobby. The calf has been named Marvin. Newborn bongo calves have big ears and bright white stripes like their parents that help them camouflage with the sunshine rays coming through leaves from the tree canopies in dense forest areas.
Marvin had his first successful day on exhibit two weeks ago. He shares the exhibit with mom and Bernadette, the other female bongo. As he continues to spend more time exploring his home he seems to enjoy hanging out under the shelters in his habitat. Bongo, and other antelope, often hide their calves and return to them to let them nurse and check on them, so if he isn't easily visible right away make sure to check all the corners of the exhibit and back wall!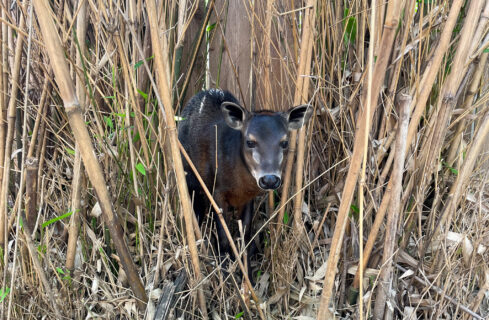 Meet Cadbury the Yellow-backed Duiker
Another baby boy for the Hoofstock team! A male yellow-backed duiker was born April 10 to mom Pumpkin and dad Darryl and has been named Cadbury. Newborn duiker calves have some adorable features including red tufts on the top of their head and big "boopable" noses.
Cadbury went on exhibit for the first time two weekends ago and spends much of his time tucked away in the bamboo around the perimeter of the exhibit during the day, which is common for duikers in general. Cadbury shares the exhibit with okapi, Stanley cranes, and his mom.