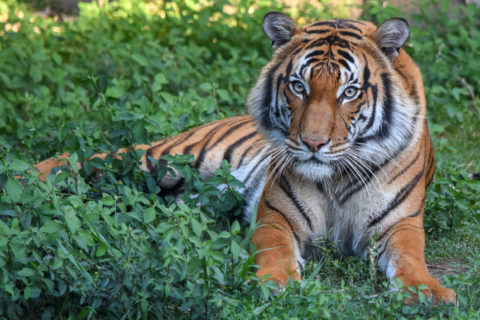 Have you ever celebrated Christmas with a big cat? Come out to the Zoo this holiday season to celebrate our tigers for our Spotlight on Species (SOS) event on Saturday, Dec. 7. The Houston Zoo cares for one male Malayan tiger named Berani. He is seven-years-old and came to us from Point Defiance Zoo in 2012. Tigers are the world's largest species of cats, but Malayan tigers are one of the smaller subspecies and Berani weighs in at a little over 300 pounds. Tigers in general are considered an endangered species, while Malayan tigers specifically are listed as critically endangered. It's estimated that there are around 3,900 tigers left in the wild, with only 250-340 Malayan tigers left. All in all, tigers desperately need our help!
Here at the Houston Zoo, our mission is to connect communities with animals, inspiring action to save wildlife. Since Malayan tigers are critically endangered, we have partnered with organizations that are helping to save tigers in the wild. The Houston Zoo partners with the Tiger Conservation Campaign to assist with research and monitoring of Malayan tigers. We support the setup of camera traps in 97 different locations, as well as support more than 500 anti-poaching patrols covering over 14,000 km that were able to destroy 290 snares and 41 traps. All these actions will inform future protection plans for wild tigers.
Since we love saving animals in the wild, we want you to have the same opportunity! One of the easiest ways you can help save tigers in the wild is by coming to the Zoo. Every time you come to the zoo you are helping us watch over wild tigers and protect them.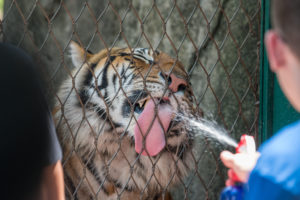 On Saturday, Dec. 7, we will highlight Berani and all tigers at our SOS event. The event will be open to members one hour before we open to the general public (at 8:00 a.m.) and then open to everyone from 9:00 a.m. to 2:00 p.m. You can visit our holiday booth to learn about how you can donate gifts to our carnivores, participate in our adopt a tiger program, and find out how to purchase your own Berani painting. Come out and see Berani receive some amazing enrichment, see him up close at our tiger training window, take photos in our special tiger photo booth, play games to see how you match up with tigers jumping skills, and watch him show off these skills during a training session. Who knows, you might even have a chance to feed Berani a special treat? Make your way to the Houston Zoo to learn all about tigers, how you can help them, and spread some holiday cheer alongside our handsome tiger Berani! Every time you come to the Zoo, your admission ticket is helping the Zoo purchase and replant trees to protect wildlife in palm oil plantations.