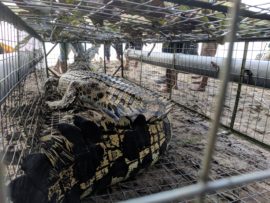 Tuesday Morning: We woke up to the indescribable sound of rain in the jungle. It's almost magical. While eating breakfast, our group discussed how we planned to track elephants for the day. Suddenly, one of the students working here comes running down the path yelling, "CROCODILE!" A croc had been caught in one of the traps we set on Monday. The entire field centre started moving. The plan had been for the crocodile researchers to head out early in the morning to check the traps, if they had caught a croc, they'd send word back and wait until the group of research assistants and field guides could join. We dropped what we were doing and set out with the team moving in on the trapped croc. As we got closed, we saw him – Inside a 12′ trap was what turned out to be a 14′ crocodile. It was not tiny. It was impressive to watch the research assistants work. They moved the trap to the shore, and began to tie ropes around the croc's snout. The researchers inserted a microchip (similar to how you'd microchip your pet), took a tissue sample, and affixed a satellite tracker. After about an hour on land, the group of muddy researchers and field assistants released the massive crocodile back into the river.
The crocodile work closely with our partners.  All of the conservation projects in the area benefit from one another's information and efforts to protect all of the wildlife in Borneo!
Tuesday Afternoon: Heading out with Houston Zoo Conservation Associate, Farina at 1:00 p.m. We're planning to trek into the jungle in search of elephants. Wish us luck!
Tuesday Afternoon, Continued: We went out with Farinha to look for elephants after getting a good GPS location. After a 45min boat ride, we got out and began trekking through the jungle. After a short walk, we realized that the elephants were on the other side of an impassible swamp and had to turn around for the day. It was a bummer but we are going to try around tomorrow.
Houston Zoo's SMG (Social Media Guy) is on the trip of a lifetime to Borneo!
From Dec. 1–11, 2017 the Houston Zoo and Houston's KPRC Channel 2 are traveling to southeast Asia and the island of Borneo to document the work you are supporting to protect the counterparts of the wildlife that you see when you visit the Zoo. Houston Zoo conservation associates who have dedicated their careers to protecting elephants, orangutans, pangolins and a whole host of other amazing species on the world's third largest island will give us an in-depth look at what it means to save species from extinction.
We've created a special webpage to follow their exciting journey around the world, go behind the scenes, and learn more about how we can all save animals in the wild. Follow along with SMG!