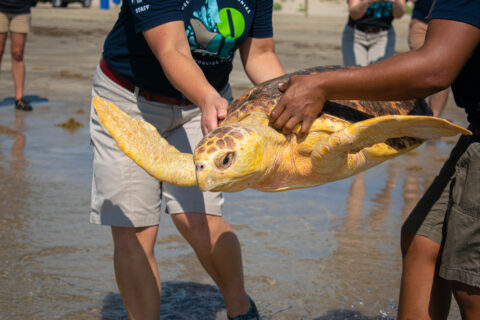 We recently released a trio of loggerhead sea turtles back into the wild right before Labor Day weekend. It was a team effort with many Zoo staff assisting with the release in Galveston. The Gulf of Mexico is home to five different species of sea turtles: Kemp's ridley, green, leatherback, Atlantic hawksbill, and loggerhead. Learn more about the three sea turtles below!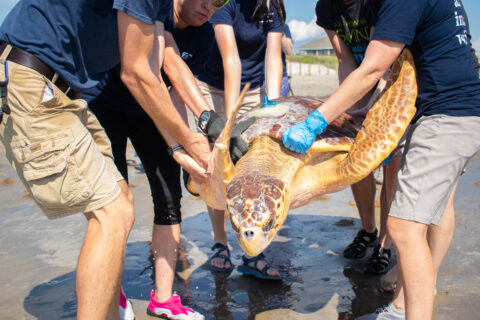 Young Adult Male Loggerhead
This is the largest of the three loggerheads (and male – which is rare to see along the upper Texas coast) and is likely between 35-40 years of age. It was found stranded on Bolivar Peninsula beach on May 22 in a thin and weak condition for unknown reasons. Our veterinarian team oversaw the care and treatment of this turtle as it rehabilitated at the Houston Zoo's sea turtle hospital in Galveston. The turtle gained over 43 pounds and considerable strength while in our care and weighed 220 pounds just before it was released.
He was also fitted with a satellite tag by our partners at Texas A&M's Gulf Center for Sea Turtle Research to track its movements so that scientists may gain a better understanding of loggerhead sea turtle behavior in the Gulf of Mexico.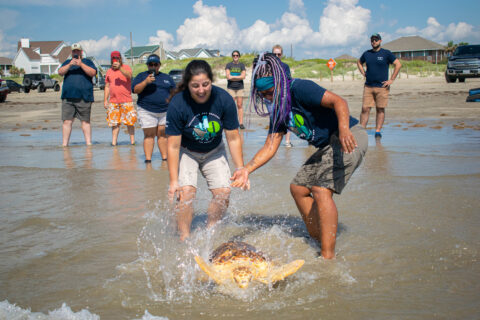 Large Juvenile Loggerhead
The second largest loggerhead is estimated to be between 20-25 years of age. It was stranded on the beach at Sea Rim State Park on May 13 in a thin and weak condition. It was found to have intestinal parasites. Once the parasites were eradicated, the turtle began to improve, and gained over 13 pounds while rehabilitating.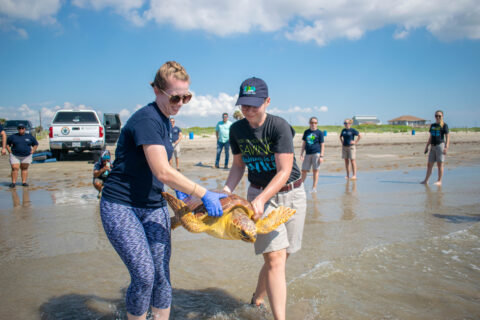 Small Juvenile Loggerhead
The smallest of the three loggerheads is a juvenile that is estimated to be 15-20 years of age. It was found stranded on Bolivar Peninsula beach on July 19 in an extremely lethargic condition. The turtle slowly became more responsive and active while in rehabilitation, returning to normal loggerhead behavior by mid-August before being cleared for release.
Every time you visit the Zoo, you're helping save sea turtles in the wild. You can also help wild sea turtles by reducing your single-use plastics and picking up any trash or debris you see along the beach.
People are urged to call 1-866-TURTLE-5 if they find or accidentally catch a sea turtle so that an expert can assess the turtle and provide care if needed.