Every time you visit the Zoo, you're helping us save sea turtles in the wild. On April 14, our vet team evaluated and provided medical care for a number of wild sea turtles that came in for recheck exams. Their treatment included physical exams, antibiotics, bloodwork, and X-rays to ensure they're recovering before being cleared to be released back into the wild. Many of these sea turtles were part of December's cold stunned (when water temperatures drop rapidly, become lethargic and unable to swim due to the cold) event in Cape Cod, Massachusetts, as well as during the cold stunned events that hit our Texas coast earlier this year.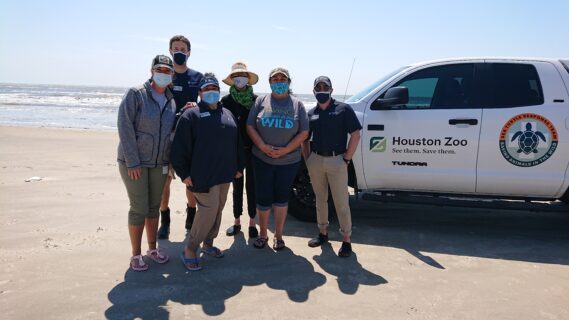 On April 21, two of the Kemp's ridleys from the April 14 vet clinic visit were released back into the wild in the Gulf of Mexico by members of our senior executive team in Galveston.
"My favorite part of working at the Zoo is any opportunity I get to make a physical connection with wildlife and our mission of saving animals in wild," said Kristin Finney, VP of human resources. "The sea turtle release was such an amazing experience! What better way to feel connected than releasing a rehabilitated sea turtle back into the ocean! I've always felt my work at the Zoo supports our mission, but getting to experience it first hand is so impactful."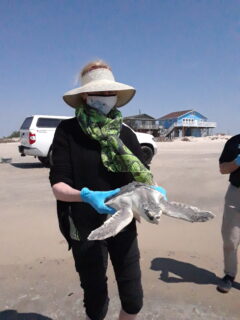 People are urged to call 1-866-TURTLE-5 if they find or accidentally catch a sea turtle so that an expert can assess the turtle and provide care if needed.
"I am grateful for the chance to have been part of this release," said Jeri Nordbrock, chief financial officer. "Getting to release a Kemp's ridley sea turtle back into the wild was an extraordinary thing. They are magnificent creatures. When I close my eyes and concentrate, I can still feel the turtle's body rise and fall in my hands as it breathes… truly a life-affirming experience."
Special thanks to Port Houston for their support of the Houston Zoo and our sea turtle recovery program.