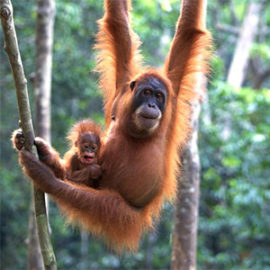 Having recently celebrated world orangutan day, we wanted to take the opportunity to reflect on the work our partners at Hutan Kinabatangan Orangutan Conservation Project (KOCP) have done, and continue to do, in order to save one of the world's most endangered apes from extinction. KOCP's primary focus is to study orangutans in Borneo, which is home to some of the last remaining native habitat for wild orangutans. With over 50 highly trained staff, their work includes: assessing and monitoring orangutan population health, studying how orangutans adapt to living within degraded or fragmented forest patches, developing policies for population management within and outside of protected areas, and promoting community engagement and education in the conservation of orangutans and habitat, including environmental education programs for Malaysian school children. Just last year, environmental education programs reached 12,370 students and 914 teachers!
A focus on education is a must, but equally as important is coming up with creative solutions to keep orangutan populations happy and healthy while work is done to create protected areas and replant vital habitat. Logging to make room for palm oil plantations has made it almost impossible for orangutans to find tall old growth trees which they need in order to cross rivers and tributaries that divide sections of their habitat. If orangutans cannot move freely within their home range, they lose access to vital resources, and lack the ability to mate with other orangutans which leads to a decrease in genetic diversity. A lack in genetic diversity can have disastrous effects on a species whose numbers are already declining. So, our friends at KOCP had to figure out a system that would allow orangutans to navigate terrain easily, without having to rely on old growth trees. The answer, as it turns out, actually came from within the zoo world in the form of artificial bridges! Bridges made out of various materials like rope are used by orangutans in Zoos as a form of enrichment, and as a way to navigate their enclosure. You can see an example of one of these bridges here at the Houston Zoo when you visit our orangutans!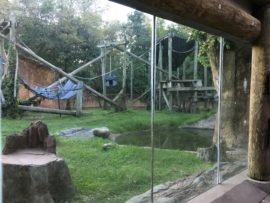 In 2003, KOCP established the first orangutan bridge in the wild, and in 2010, after many years of waiting, they finally obtained camera footage of an orangutan using the bridge. The rest, as they say, is history. Last year, with support from the Houston Zoo, KOCP was able to refurbish 2 orangutan bridges, ensuring that orangutans will be able to continue to move freely across forest patches.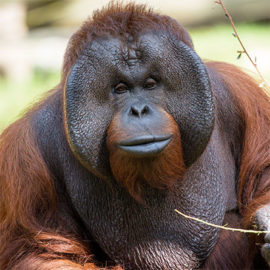 Of course, artificial bridges are only a short-term solution. Ideally, forest patches will be restored through replanting efforts and the cooperation of government and non-governmental organizations, as well as players within the palm oil industry. It will be a long process, but the hope is that one day artificial bridges will no longer be needed.  Texans can help save orangutans in the wild by shopping smart, and only buying from companies that support sustainable palm oil practices, and by visiting the Houston Zoo! A portion of every ticket to the Houston Zoo goes to help save animals like orangutans in the wild.