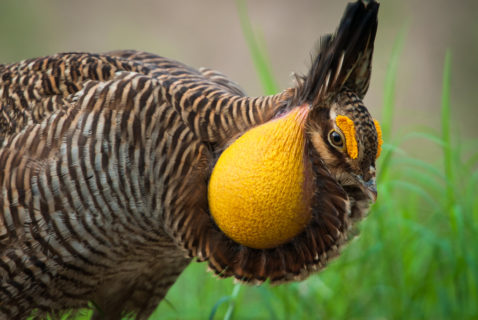 The Houston Zoo is helping one of the most endangered birds in North America make a comeback. A century ago, there were about one million Attwater's prairie chickens in the wild, today it is estimated there are nearly 180 birds left. For 27 years the Zoo has been helping the native bird bounce back from the brink of extinction through a breeding program for the species. During the 2021 breeding season, the Zoo has successfully raised and released 68 birds at the Attwater's Prairie Chicken National Wildlife Refuge in Eagle Lake and on the Goliad Prairie in Victoria, TX.
"This is a Texas endemic subspecies of the greater prairie chicken, so this is a uniquely Texas bird," said Chris Holmes, curator of birds and the head of Houston Zoo's Attwater's program. "Currently the survival of this species depends on these releases in partnership with the U.S. Fish & Wildlife Service."
The Houston Zoo is one of four zoos to breed and release these birds in partnership with U.S. Fish & Wildlife Service. The Zoo's breeding program is located on the grounds of NASA's Johnson Space Center, on a plot of land that resembles their natural habitat of the coastal prairie. The eggs are incubated, and the chicks are raised at the Zoo until they are large enough to pass a medical evaluation. Once they have been medically cleared, they are released back into the wild to join existing populations.
By visiting the Houston Zoo, guests are supporting wildlife-saving efforts to help the Attwater's prairie chicken from going extinct. A portion of each Zoo admission and membership goes toward supporting the Zoo's work to breed the birds and reintroduce them into the Texas wild.