Batteries, Wildlife, and How You Can Take Action
The Houston Zoo cares about animals in the wild, and is taking steps to ensure that everything we do on Zoo grounds is done with the environment and wildlife in mind. If you have a surplus of used batteries, be them alkaline or rechargeable, you can take them to your local recycling center to ensure that the remaining chemicals and substances don't harshly affect the wildlife that's directly outside your doors!
Any battery that is disposed of in a landfill (like if you toss them in your normal trash), or that finds its way into the environment, has the potential to leak its old chemicals into the soils and waters that wildlife like amphibians call home.
Because amphibians like frogs, toads, even salamanders, have skin that can easily absorb liquids found in damp soils or the waters and streams they frequent, they can get sick from things like leaking batteries. Often, harsh or foreign chemical interactions can affect populations long-term by changing the behavior of animals, affecting female or male reproductive abilities or even influencing the development of eggs.
The Zoo works to help our local amphibians by recycling our alkaline and rechargeable batteries with a company that specializes in battery disposal. You can do the same by finding your local recycling center; if you're in Houston you can go to the Westpark Consumer Recycling Center and they will take most options besides alkaline. You can also recycle more than the typical AA, AAA, C, and D batteries – items like power tools, cars, small electronics like tablets or smart phones, hearing aids, watches, and all manner of things take a variety of batteries.
By using rechargeable batteries you can also ensure that the materials that were mined to make your batteries last for a much longer time period than with single-use alkaline batteries. Rechargeable batteries will go dull over time, but you can get multiple uses out of them and lessen the stress on the environment by finding products and items that you can use over and over before recycling!
How Our Staff Recycles Batteries at the Zoo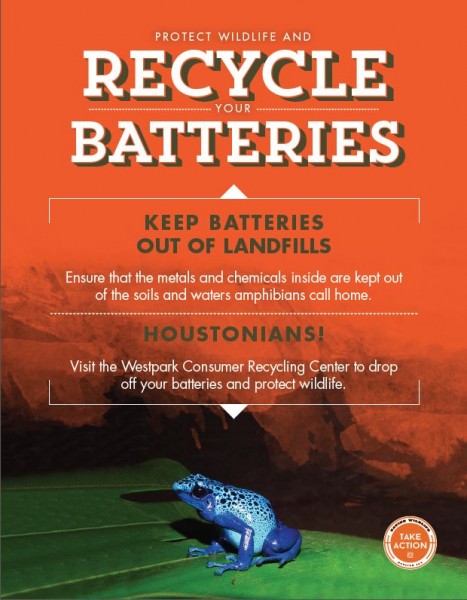 On Zoo grounds we will often offer recycling information that you can see when you visit. We recommend you take your batteries to a local recycling center to ensure they don't end up in landfills that can encroach on the space of wildlife as well as affect the soils and waters amphibians and other animals call home.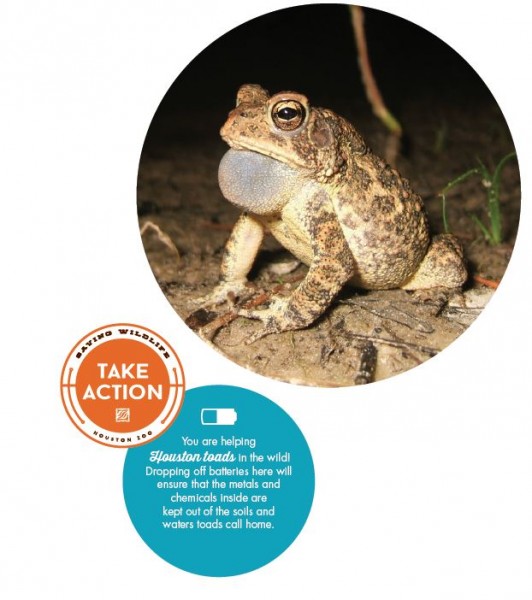 Behind the scenes, our staff utilize a special battery drop-off for spent batteries. By encouraging staff to recycle these items the Zoo is able to see how many batteries we use as an organization, and how many we use that are rechargeable! Alkaline batteries are not rechargeable, so taking a look at our staff battery needs shows us where we could potentially get more rechargeable batteries rather than single-use alkaline batteries. We can also weigh our battery recycling over time and see how much space we have saved in landfills and how many batteries have been prevented from harshly affecting our wildlife habitats.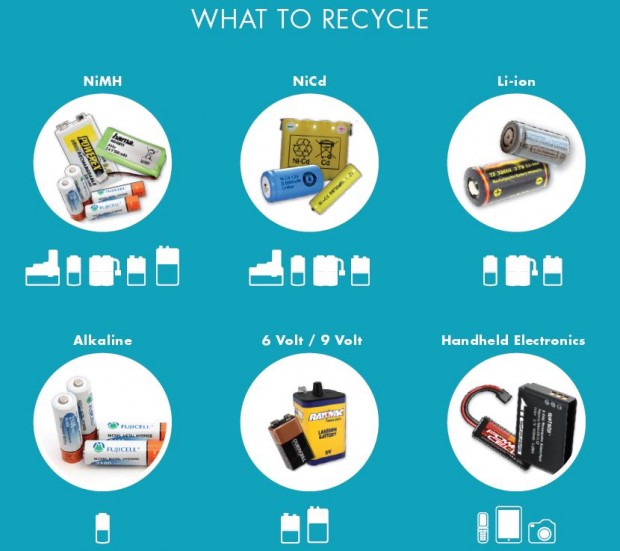 Be Safe When Collecting Batteries for Recycling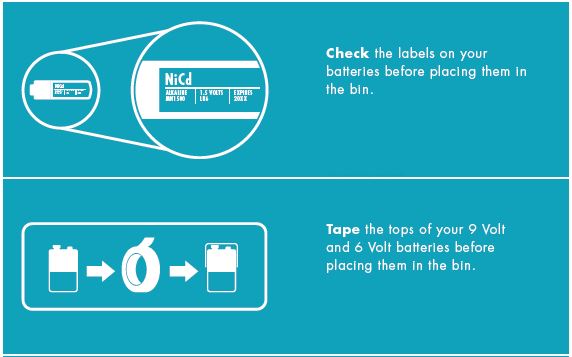 Alkaline: these are more often the common batteries like AA, AAA, C, or D as well as 9-Volt. Do not store any of these batteries together without packaging. Once they have been used there is still potential for them to 'pop' open as there are residual chemicals that can be discharged and react with other batteries they are near. This could cause injury if someone is nearby. The 9-Volt batteries are commonly used in your fire alarms and are properly prepared for the recycling center by putting duct-tape over the positive and negative transistors (basically, the top two prongs need to be covered so they don't come into contact with other batteries). Note that some centers do not accept alkaline batteries for recycling.
Rechargeable: these batteries are widely used in items like power-tools, phone batteries, laptop batteries, or even your more common AA, AAA, C, D, and 9-Volt options. There are no alkaline battery options that cannot be replaced with rechargeable options. You will find rechargeable batteries in forms of Nickel Cadmium (NiCd), Lithium-ion (Li-ion), and Nickel Metal Hydride (NiMH). All of these batteries have the potential to get hot and should be packaged separately from each other in preparation for recycling; Li-ion should be particularly tended to in ensuring there is no other metal or battery contact once discharged.
This is a sustainability reference document.