This blog post was written by Heather Crane, a Houston Zoo staff member in our Sea Lion Department. The sea turtle release described below would not have been possible without prominent sea turtle conservationists at NOAA Galveston who provided all care and support to rehabilitate the sea turtles mentioned in this blog.
On October 30, 2016 a group of volunteers and I were at a scheduled Sea Lion team Surfside Jetty cleanup when we discovered an entangled green sea turtle. Cleanups are executed monthly by the Houston Zoo Sea Lion Team. Through a partnership between the Houston Zoo and NOAA (National Oceanic and Atmospheric Administration), fishing line is removed to prevent wildlife entanglement and pollution. We notified NOAA of the entangled sea turtle by calling the sea turtle hotline at 1-866-TURTLE-5. While we waited on a NOAA scientist to arrive, the turtle became more entangled and appeared distressed. My worst fear started playing out before me: this endangered turtle was drowning. Help was still 30 minutes from arriving. I made the decision to enter the water to disentangle and retrieve the sea turtle. My team of volunteers stood close by to assist and ensure my safety. Our Conservation Intern of the time, Taylor Rhoades, also entered the water to free me when my shoes also became entangled in fishing line. The in-water dangers that exist pose a threat and it is not recommended that members of the public enter the water. NOAA biologist, Lyndsey Howell, arrived and removed the fishing line that was tightly wound around the front left flipper of the turtle. She took the green turtle to the Galveston Sea Turtle Facility to begin what would become a seven month rehabilitation and recovery.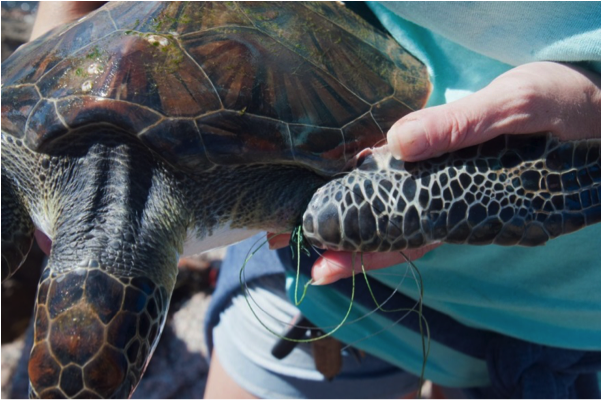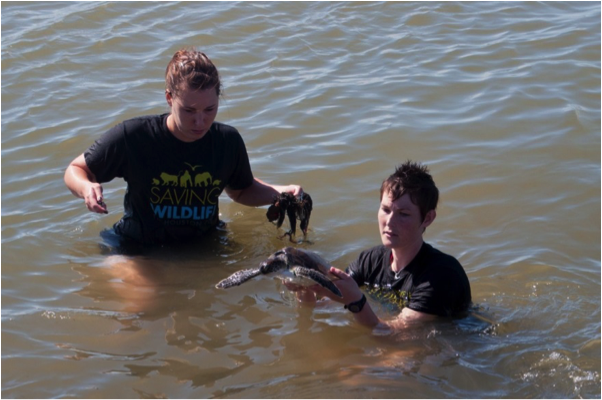 On Friday, May 19th, the sea lion team was invited to watch the rescued green sea turtle be released back into its natural habitat. This was an unexpected surprise and a very special and generous invitation from NOAA, which will forever have an impact on my life. NOAA was scheduled to release five green sea turtles on Friday. I was surprised when we were told our team would help release some of the turtles. We got a lesson from the biologists, Lyndsey and Heather, on safe handling and release practices before being allowed to release the turtles. I took the first turtle to the water and when it touched the surface of the water, it knew exactly what to do. I watched it until it disappeared into the water about 15 feet in front of me. Next, my supervisor, Sophie Darling, took a turn releasing a turtle too. After four turtles were released, the only one that remained was the turtle I had rescued in October.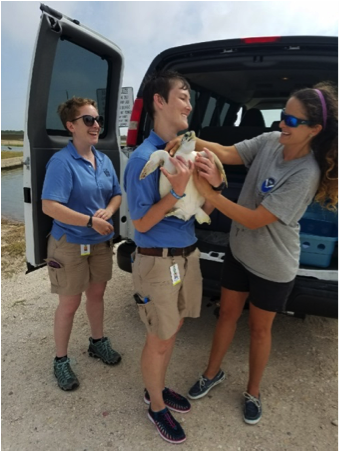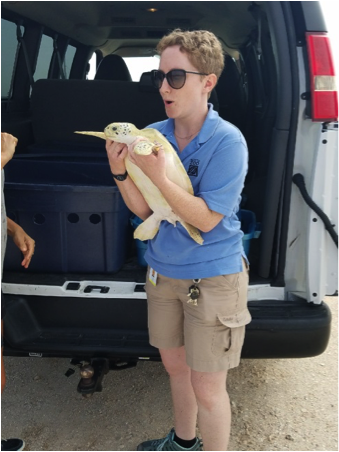 The surprises just kept coming. Not only would I have the opportunity to watch the turtle I rescued go home, I was also going to be the one to release him! I had never imagined I would be part of this endangered animal's story, and certainly never thought I would see the full circle process. When I peered in to the container in which the turtle had been transported, it appeared healthy and active. And WOW! It had doubled in size too! I would recognize this turtle anywhere, even if it had doubled in size. The posterior edge of the shell had a small hole in it when I first encountered it in October. Additionally, due to the tight fishing line that was wrapped around the front left flipper, there was distinctive line entanglement scarring. As I walked towards the water, I stopped to take a picture with the turtle before wishing it farewell and good luck. As I waded out into the shallows, I only felt excitement. I think I was still in shock that NOAA had included me in this turtle's journey. I lowered the turtle to the water and it took just a moment for it to start swimming. First, it swam backwards, which both confused and humored me, but then, it swam gracefully away towards the deeper water. As I watched, I could think of fewer greater moments of joy in my life.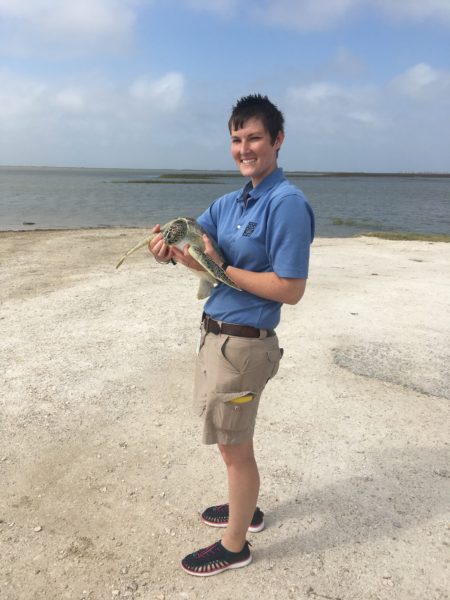 The Houston Zoo has empowered me to take an active role in conservation of wild animals. The Houston Zoo's partnerships with NOAA and other conservation organizations are invaluable and are what make our conservation programming successful. I feel proud to know that this is only one example of how the Houston Zoo lives its mission of saving animals in the wild. Many people have thanked me and have told me how I impacted the life of the green sea turtle I rescued that day. In the end, we both impacted each other. When I reflect upon proud moments of my life and career, this experience will always be amongst the experiences of which I am most proud. I am proud, too, to be a part of team dedicated to ensuring clean waterways through the dedication of time and energy every month to cleaning the Surfside Jetty. And I could not be more thankful to NOAA and all the work they do to rescue, rehabilitate, and release these beautiful and endangered turtles.
To watch a short video of the green sea turtle being released, please visit: Sea turtle release
You can help protect sea turtles in Texas by disposing of fishing line properly. Place fishing line in designated monofilament recycling bins, or take it home with you and dispose of it in your trash so it does not blow into the ocean where animals like sea turtles, fish, dolphins, and birds can become entangled.