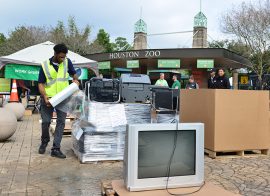 Thank you for saving animals in the wild! On Saturday, January 21, Houstonians rallied at the Zoo to recycle their old and unused electronics. Sponsored by Verizon, this event directly helped wildlife by reducing the need to obtain new materials from mines in Central Africa, home to animals like chimpanzees, gorillas, okapis, and mandrills.
A total of 24 pallets of electronics were recycled, weighing in at nearly 12,000 pounds! Families that brought electronic items to be recycled received a tote bag and a voucher for half-price admission to the Zoo.
As Houston prepares to host Super Bowl LI, a partnership between the NFL, Houston Super Bowl Host Committee, Verizon and Trees for Houston, and the Houston Zoo is working to promote green initiatives and encourage environmentally friendly behaviors. For more ways you can take action and protect wildlife, visit our website!