Zoo News Blog
Record Breaking Number of Whooping Cranes Flock to Port Aransas, Texas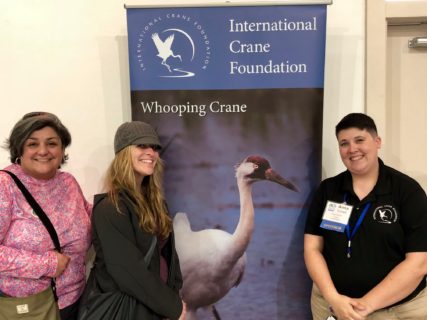 Just a few weekends ago, Houston Zoo staff went to Port Aransas, Texas to celebrate an enormous wildlife victory – an increase in the world's whooping crane population! In the 1940's the whooping crane population had dropped to below 15 birds – thanks to many dedicated individuals and protection efforts this number has climbed to more than 500. Each year, our partners at the Texas office of the International Crane Foundation (ICF) host the Whooping Crane Festival in Port Aransas. This section of the Texas coast is the only place where you can see the world's last naturally-occurring population of whooping cranes. During our visit we got to see some family groups of wild whooping cranes foraging for blue crabs and wolf berries in their winter wetland habitat. World renowned crane researcher,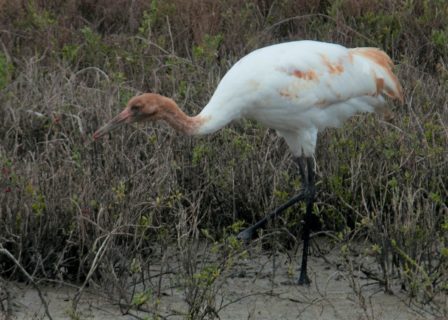 Dr. George Archibald opened the Festival with an inspirational presentation on saving cranes around the world, and other talks and presentations on whooping crane protection efforts followed.  Many Texas zoos that share the story of the whooping crane with their guests also attended. We are proud to sponsor this unique festival that highlights the protection work for whooping cranes and brings everyone together to celebrate this incredible species.
Weighing around 15 pounds, and standing at nearly five feet tall, the whooping crane is hard to overlook! Adults are easy to spot, even for those who haven't seen this species before because of their bright white feathers and accents of crimson red on the top of their head.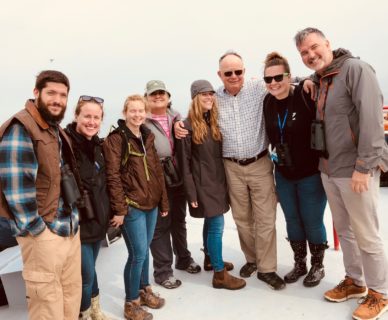 It may be hard to believe that such a big bird could have lived near a busy city like Houston, but a long time ago whooping cranes could be found right here in our backyards – as we strengthen efforts to protect them they will come back!
We encourage you to come see this iconic species up close at the Houston Zoo in our new Texas Wetlands habitat when it opens later this year and learn what steps you can take to help save this native Texan.