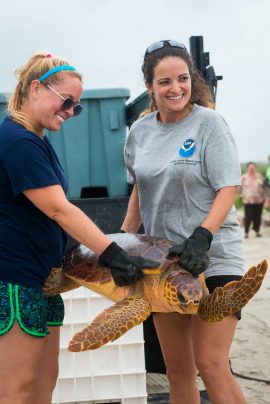 The Houston Zoo is dedicated to connecting communities with animals to inspire action to save wildlife and last week we were fortunate to be a part of two incredible animal releases. We wanted to take a moment to celebrate the incredible work that goes in to the rescue, rehabilitation and release of these amazing animals!

Wildlife rehabilitation releases are the result of the selfless work of many people. Many of our Houston Zoo conservation partners rehabilitate animals that have been stranded, orphaned, injured or are in poor health and then
reintroduce them into the wild. On Monday, we shared the penguin release in Argentina on Facebook.

These penguins were impacted by oil spills and rehabilitated by Mundo Marion. This is a huge help to wild populations of animals and plays a big part in saving them from extinction.

Sick, Injured or stranded sea turtles are brought to the NOAA sea turtle hospital in Galveston to be rehabilitated. In the past 15 years, 595 rehabilitated sea turtles have been released in Galveston. Those turtles are getting a second chance at life thanks to very dedicated professionals in Texas. NOAA, US Fish and Wildlife, Sea TurtleRestoration Project, Texas A&M Galveston, Moody Gardens, National Parks Service, Texas General Land Offices, the Galveston fishing piers, fisherman, the City of Galveston and all of the public that are keeping beaches clean and spreading the word about saving sea turtles are all working together on the same goal to protect and restore sea turtle populations. This is a huge job and it would not be possible without the equally important roles of all of these organizations working together.

The Houston Zoo is grateful to be a part of these efforts and will continue to share the amazing work that is being done to save sea turtles in the wild. Our role is to connect as many people as possible to these efforts and inspire them to act to save wildlife. The more viewers we get, the more protected we know those sea turtles will be.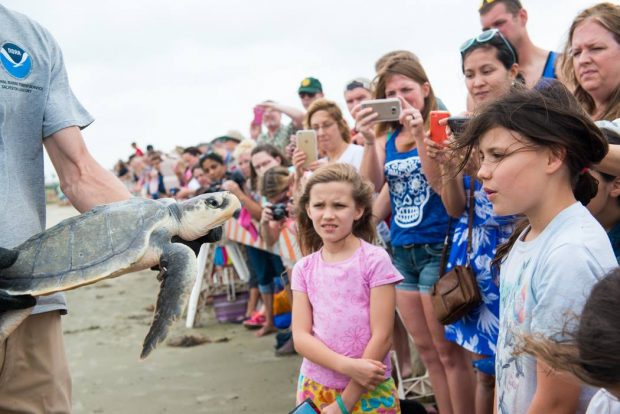 A mother brought her young daughter to watch the 10 sea turtles released last week and said "This is amazing! My daughter will probably not remember this, but I will have pictures to show her that she was a part of an event that sent sea turtles back to the wild!" Along with the approximately 300 people that came out to see the ten sea turtles released on the Galveston beach last week, 39,000 people joined us virtually on a live Facebook post of the release. How cool is that?!
Last month we finalized our Houston Toad breeding season and released more
than 500, 000 eggs in Bastrop County with Texas Parks and Wildlife. Later
this summer we will accompany Texas Parks and Wildlife to Sealy Texas for
our annual reintroduce of juvenile Attwater's prairie chickens bred at the
Zoo. Animals are going back into the wild, stayed tuned!