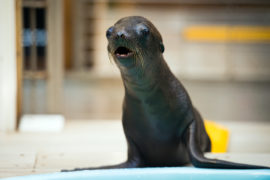 The Houston Zoo's baby sea lion has a name! The five-week-old male California sea lion has been named Max by two of the zoo's donors. Jim and Beverly Postl won the honor of naming the pup at the zoo's annual fundraising gala in April, Zoo Ball. The Postl's are longtime Houston Zoo supporters, and Jim serves on the zoo's board of directors. Jim says he chose the name because, "I wanted my grandsons to call me Max. However my wife and daughters thought I was out of my mind and nixed that." So now Jim can proudly call his favorite sea lion by this beloved moniker!
The pup has also begun swim lessons behind-the-scenes. Unlike most marine mammals, sea lions don't swim when they are born, so must be taught gradually by their mothers. Max's mother, Cali, has been cautiously allowing Max to play in ever-increasing depths of water under the careful supervision of his trainers. Currently, Max is swimming in about three feet of water. Next, the trainers will continue to deepen the water in the pool, as well as begin introductions to the other three California sea lions, before making his public debut several weeks from now.
As ambassadors for the sustainable seafood Take Action initiative, the zoo's sea lions help guests understand that the choices they make can save animals in the wild. The zoo's sea lions consume 23,850 pounds of responsibly-caught, sustainable fish each year. By choosing sustainable seafood options, we can all help protect our oceans' health.