Zoo News Blog
The Plight of the Pangolin: Learn How You are Helping to Save One of the Most Threatened Species on Earth!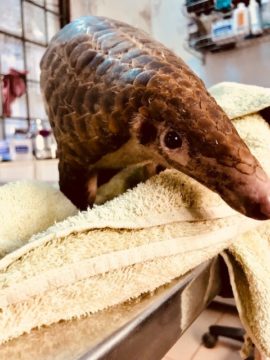 Like most of us after reading that headline, you're probably saying what in the world is a pangolin, and why are they in trouble? Pangolins are arguably one of the most fascinating looking creatures in the animal kingdom. Often referred to as a spiny anteater, the pangolin is actually a mammal that researchers believe is most closely related to carnivores like hyenas, bears, and wolves! Their small bodies are almost completely covered in what look like dragon scales that are actually made of keratin, the same material that your fingernails are made out of. The name pangolin comes from the Malay word pengguling, which means to roll up. Rolling up is exactly what pangolins do when they are threatened, and in their tight protective ball, not even the teeth of a lion can penetrate their strong scales! Unfortunately, these scales are very highly valued in some cultures, and as a result, pangolins are disappearing from the wild. Here at the Houston Zoo we want to do everything in our power to help save this species, and through your admission ticket purchases, we are able to support pangolin protectors like our very own veterinary technician Jess Jimerson, and Ms. Elisa Panjang, who works with our partners at the Danau Girang Field Center on the island of Borneo, in Southeast Asia.
Jess Jimerson, a veterinary technician here at the Houston Zoo embarked on a journey to Vietnam in October of last year to work with pangolins at Save Vietnam's Wildlife. Jess was able to do this due to funds she received from the Staff Conservation Fund; a very unique grant program that is managed by Houston Zoo staff for Houston Zoo staff. With this grant, Jess went to Vietnam to train local employees at Save Vietnam's Wildlife on how to conduct medical care work such as collecting and analyzing blood samples to improve their animal health assessments. The day Jess arrived, the organization helped with a confiscation of 32 pangolins, all of which were alive, and Jess worked with the team to ensure these animals were well cared for. Staff like Jess here at the Zoo work to help pangolins across the world, but we also have extended staff like Elisa who live in pangolin regions and help pangolins in their own country!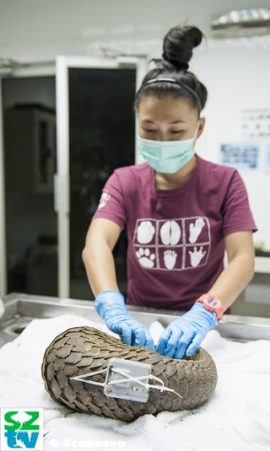 Born and raised in Malaysia, Elisa Panjang has dedicated her life to protecting the pangolin. Impressed by her passion about the wildlife she has grown up with and her commitment to saving this fascinating creature from extinction, Houston Zoo staff chose Elisa, a long-time partner of the zoo, as a 2017 recipient of the Wildlife Warrior Award. This award is funded through the sale of saving wildlife bracelets sold by the admissions team here at the zoo, and recognizes exceptional individuals from our wildlife conservation partner programs and provides them with an experience that will increase their abilities/knowledge. Elisa is a PhD student from Cardiff University. In addition to doing her PhD research with our partners at Danau Girang Field Center, she is also a Pangolin Conservation Officer and is actively involved in conservation programs such as environmental education to protect the endangered wildlife species. Pangolin is a rare and elusive species, which makes it a difficult animal to work with. Nonetheless, Elisa never gives up, and has been doing research on pangolin for seven years and counting. With the funds from the Wildlife Warrior Award, Elisa will join the Carnivore and Pangolin Conservation Program in Vietnam, a well-known Sunda pangolin rescue and rehabilitation center in the world. She hopes to learn husbandry skills to care for pangolins and gain an insight into conservation issues faced in Vietnam, and what is being done to save their wildlife, which will be important for Elisa to experience herself and eventually use this knowledge and skills to help wildlife in her country. Elisa will be visiting us here in Houston during the last week of January, so if you see her on grounds make sure to stop and say hello!