As we celebrate the moms in our lives, this Mother's Day, we will be celebrating our own special mom here at the Houston Zoo, Cheyenne the orangutan.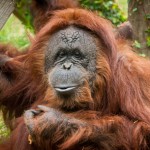 This Mother's Day, Cheyenne will be celebrating her 46th birthday.  Cheyenne was born at the Cheyenne Mountain Zoo in Colorado on May 13, 1972.  Cheyenne came to the Houston Zoo in 1993. She exhibits high intelligence and a complex personality.
Cheyenne's nurturing side was not fully appreciated until she became a foster mother.  A hybrid between the two species of orangutan, Bornean and Sumatran, she has no kids of her own, but when in 1999, a 2-year-old orangutan infant named Luna Bela needed a foster mother, primate staff immediately considered Cheyenne.  After gradual introductions between Cheyenne and the infant, Luna was allowed the opportunity to enter Cheyenne's room.  The new mother gently coaxed Luna through the door and waited patiently for her approach, and they were together until Luna grew up to be a successfully socialized orangutan.
Since Cheyenne's first experiences with being a foster mother, she has successfully fostered 2 more orangutan infants, Elok, who now lives at the Oklahoma City Zoo and Indah, who now lives at the Sacramento Zoo.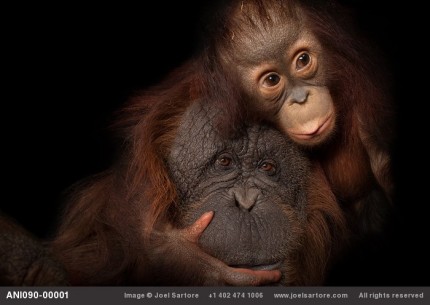 In 2011, Cheyenne once again became a foster mother to her fourth infant, Aurora. At the tender age of 9 months, Cheyenne's youngest foster infant, entered her life.  Cheyenne has shown a whole new depth to her level of mothering with this infant, and allowed the infant to ride on her back, climb onto her head, and sleep in her nest at night. Aurora, who is 7-years-old, can still be found sleeping in the same nest at night with Cheyenne and she depends on Cheyenne helping her enter and exit the exhibit.
As we are celebrating Cheyenne and all our moms, it is the perfect day to celebrate and pay tribute to orangutan mother's too.
Each year more and more orangutans, moms and infants, are killed or left homeless as their native rainforest habitat is cleared for palm oil plantations. On Sunday, May 13, 2018, the Houston Zoo will be participating in M.O.M., Missing Orangutan Mothers, campaign. To help raise awareness for the protection of these amazing creatures, primate keepers will be on hand at 12:00PM and 3:30PM, to share information, stories and tips on how our small actions can make a big difference in orangutan's lives.
Please join us on May 13, 2108 at 12:00PM to wish Cheyenne a happy 46th birthday and Happy Mother's Day!!