Zoo News Blog
October's Featured Members: The Hollingsworth-Latimer Family
We love our Members. Their incredible support allows us to make a difference to animals both locally and all over the world. This month, we're spotlighting a family of Zoo Members that deserve recognition. We're thrilled to introduce you to October's Featured Members: the Hollingsworth-Latimer family.
---
We asked the Hollingsworth-Latimer's to share a few words about what being a Zoo Member means to them. Here's what they had to say.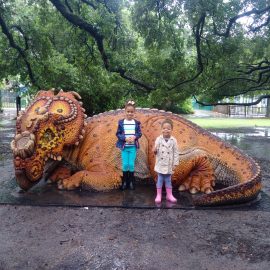 "When our family moved to Houston from New Jersey seven years ago, we weren't quite sure what to we'd gotten ourselves into. We were settling into new jobs and readying our home in the Museum District for our first child. My husband began his quest for great Italian food in the land of brisket and sweet tea. A native Southerner, I looked forward to the return to mild winters and warm summers; and, oh boy did Texas abundantly gift us with both! One of the first things we did after our daughter Sloan was born was become members of the Houston Zoo. As an educator, it is important for me to give our children early exposure to a diverse range of animal species and their habitats. Going to the Houston Zoo every few weeks provided that introduction to biodiversity and a much-needed break in our daily routine.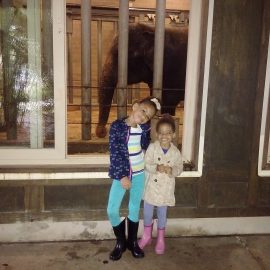 It was after we welcomed our second daughter, Talia, that our family began taking full advantage of our Houston Zoo membership. We absolutely love Member Mornings on the first Saturday of each month! It's really special to see the animal exhibits up-close and talk to the animal husbandry experts in the Meet the Keeper talks before the Zoo opens for the day. Our girls were thrilled to have a more intimate experience watching the elephants get fed and bathed at our most recent visit to the Zoo in May.  Sloan's first time at Camp Zoofari this year was fun and engaging; as a result, she is now completely at ease as our family's officially unofficial Houston Zoo tour guide.
We're especially looking forward to the Houston Zoo's next stage of wildlife conservation efforts and learning more about how our family can get involved. And, Talia, who has been little vexed at being too young to attend Camp Zoofari is anxiously counting the days until her fourth birthday so she, too, can become a Houston Zoo tour guide like her older sister."
---
From all of us here at the Houston Zoo, we want to say thank you to the Hollingsworth-Latimer's and all of our Zoo Members. As a Houston Zoo Member, your support truly makes an impact on the growth of our Zoo and conservation efforts. THANKS!