We love our Members. Their incredible support allows us to make a difference to animals both locally and all over the world. This month, we're spotlighting a family of Zoo Members that deserve recognition. We're thrilled to introduce you to November's Featured Members: The Buchanan Family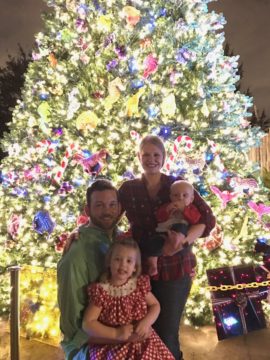 We are thrilled to have been zoo members for almost a year now! Our membership was purchased as a Christmas gift for our family last year from Honey and Papa (Hanna's mom and dad). We could not have asked for a better present, and have made so many wonderful memories. A zoo visit is always our first choice when looking to entertain out of town guests, family and friends. Last year was our first year to attend zoo lights and it was magical. Our children Annie (3) and Rhett (1) were mesmerized by all of the little twinkles, and managed to stay awake, entertained, and happy way past bedtime. When trying to decide how we were going to spend Annie's birthday this past June, a morning at the zoo was an easy choice!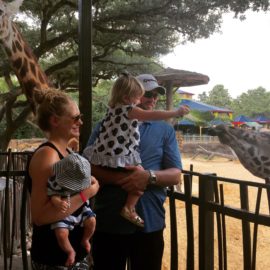 Our zoo routine usually consists of getting there early, enjoying snacks along the way, and ALWAYS seeing the elephants, gorillas, and giraffes. Feeding the giraffes and riding the zebra on the carousel are Annie's favorite activities, while Rhett's favorite is crawling in the fish tunnel inside the natural encounters exhibit. At our last visit one of the incredible zoo keepers went out of her way to let the kids pet Max, the super elephant herding dog as we were watching baby Joy. It made their day, and Max was just precious! The Houston zoo provides so many fun learning opportunities as well as family friendly events. We definitely look forward to renewing our membership again.
From all of us here at the Houston Zoo, we want to say thank you to the Buchanan's and all of our Zoo Members. As a Houston Zoo Member, your support truly makes an impact on the growth of our Zoo and conservation efforts. THANKS!