On a beautiful summer morning, under a yellow tent in the shadow of the Washington Monument, representatives of the American Dairy Goat Association presented 6 kids (baby goats) to the US Department of Agriculture, officially marking June 12th, 1986 as the first ever National Dairy Goat Awareness Day. Two years later, on June 17th, 1988 the United States Congress voted that the second Saturday through the third Saturday of June would from that day forward be recognized as National Dairy Goat Awareness Week. This week is typically celebrated every year with fun goat activities such as: milking, hoof trimming, and goat obstacle courses. In honor of National Dairy Goat Awareness Week 2018, the Houston Zoo would like for you to come out and celebrate with us; but in the meantime, here are some fun facts about our dairy goats.
The Houston Zoo is home to 5 different breeds of dairy goat, which can be found in the petting zoo area of the McGovern's Children's Zoo: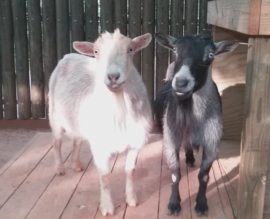 Nigerian Dwarf: This breed originated in West Africa and is known as one of the smaller breeds of dairy goat, standing roughly 23" (2 feet) high at the shoulder. Nigerian Dwarves are known for their high-quality milk which contains a large percentage of butterfat (high butterfat content gives milk a richer, more creamy taste). They are also very friendly and hardy goats, that can thrive in almost any climate.
---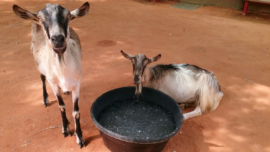 Alpine: Originating in the French Alpine mountain region, Alpine goats were introduced to the U.S. in 1920. They are known for their long lactation periods and for producing large amounts of high-quality milk. Alpines are also famed for being curious, friendly, and strong willed. Another fun fact is that Alpines can come in a variety of colors and usually have LONG HAIR!! At the Houston Zoo, our two Alpines, Chewbacca and Han Solo, love getting their hair brushed by guests.
---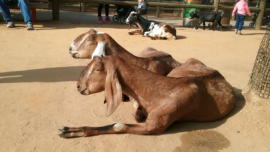 Nubian: Nubian's today have both African and Indian ancestors. This breed is known for their high-quality, high butterfat milk production. They are very adorable with their long floppy ears, strong "Roman" noses, and their tendency to be vocal. At the Houston Zoo, our Nubians (Alvin, Simon, and Theodore) are easy to spot due to their rich brown color and the fact that Nubian goats are generally at least 30" (almost 3 feet!) tall at the shoulder, and normally weigh around 135 pounds.
---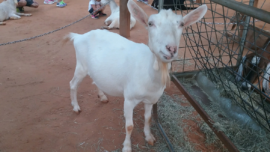 Saanen: Saanen goats are the largest of all the dairy breeds (even taller than Nubians!) and are even referred to as "Queen of the Dairy Goats" due to their majestic appearance and calm nature. Saanen goats originated in Switzerland and can come in different shades of white. They are known for regularly producing large amounts of milk, as well as for their sturdiness and tolerance of environmental change. Elsa, is the only Saanen goat currently at the Houston Zoo, and is considered by many to be Queen of the Herd.
---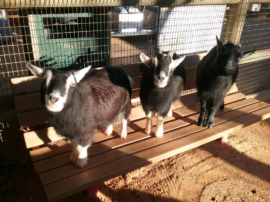 Pygmy: Originally from Africa, this very small breed of goat stands no bigger than 22"-23" tall at the shoulder. Pygmies are referred to as being "compact" and having a large circumference (meaning they are noticeably round in the middle). They are known for their high-quality milk production which has an incredibly high butterfat content. Not only that, but Pygmies are hardy, animated, and very social. The three pygmy goats that live at the Houston zoo are: Belle, and her younger twin brothers, Seamus and Finnegan. (You may even see the Fantastic Finnegan performing at The Houston Texans Enrichment Zone!)