Written by Sue Cruver, Wildlife Expeditions Participant
---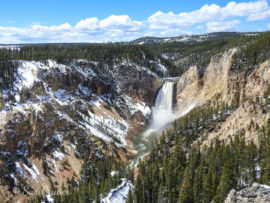 In February of this year, I took my first journey into the wild with the Houston Zoo to Yellowstone National Park. It was an amazing, life-changing experience. Led by the outstanding expedition biologists from the Teton Science Schools (TSS), I found myself surrounded by breathtaking beauty and an abundance of wildlife.  I learned so much about the different animal species, their habits and the environment, as well as the balance of nature and park conservation.
Weather made that trip a challenging one. It was cold, cloudy and snowing most of the time. Several entrances in and out of Yellowstone had to be temporarily closed, resulting in changes to our itinerary and travel routes. Not a problem. Our experienced TSS guides provided alternatives and our adventure never missed a beat. At the end of the week, it was hard to come home. I couldn't wait to return!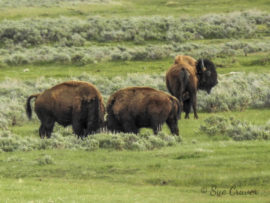 The Houston Zoo provides some great opportunities to "Travel with the Zoo." Each year, it includes two trips to the Yellowstone and Grand Teton parks in partnership with TSS. Together, the two organizations give participants the chance to enjoy the region in different seasons and to see how wildlife adapts to seasonal changes.
Bears, for example, are hibernating in February, but not in May. Springtime means much of the wildlife will now be with their young. It also means sunshine, green grass and blue skies. As a photographer who had taken dozens of "white" pictures in February, that could mean great color shots! What was I waiting for? The Zoo still had openings for its May 2017 trip and I had to go. So I did.
Weather! Always be prepared, don't assume, and be sure to layer your clothing. That is one lesson I've got down pat. Snow in the middle of May? Never happens, but that's how our May adventure started, along with a road closure into Yellowstone from Jackson Hole. But again, our wonderful TSS guides provided a detour that got us there via Idaho. Not a problem.
The May trip is three days in the wild. Snow fell the first day as we traveled from Jackson Hole, Wyoming (south of Yellowstone) to Cooke City, Montana (northeast corner outside the park). Along the way we saw bison with their calves, elk, deer, pronghorn antelope, and a few grizzly bears with year old cubs. To see these animals in a few inches of snow vs. a few feet of snow already gave me a different perspective of life in Yellowstone. And, I now could add "bears in snow" to my photographic efforts!
As we drove back into the park at dawn the next day from Cooke City, the sun broke through the clouds and the temperature began to rise. Snow began to melt and color started to emerge everywhere. It was incredibly beautiful and truly magical!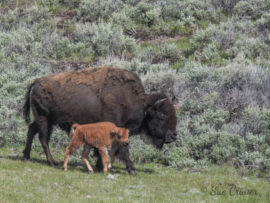 The snowy white landscape sparkled from the sunlight, and the fields and hills gradually transformed into variations of greens and browns. The sky was blue with streaks of sunlight and scattered with clouds. Tall pine trees released snow from their boughs, adding more depth and color everywhere you looked. Wildflowers peeked through a remaining thin blanket of snow.  I was in photography heaven!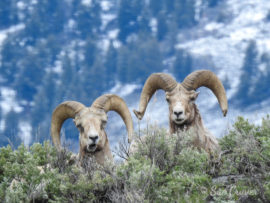 Throughout the day and the next, we witnessed a variety of wildlife and bird life as all enjoyed the return of springtime—big horn sheep relaxing on a hillside, grazing herds of bison with their calves, coyotes on the hunt or devouring a kill, grizzly bears with cubs on the move. Some special observations included finding the den of a wolf pack and its recently born cubs, an osprey resting on top of its nest near the Grand Canyon of Yellowstone waterfall, and a four-year old "teenage" bald eagle displaying its not-yet full adult plumage—a rare sighting.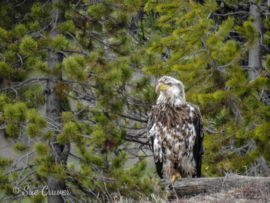 Again, it was hard to come home after such a successful Houston Zoo and Teton Science Schools adventure. Will I return again next year? That's the plan!
May 2017