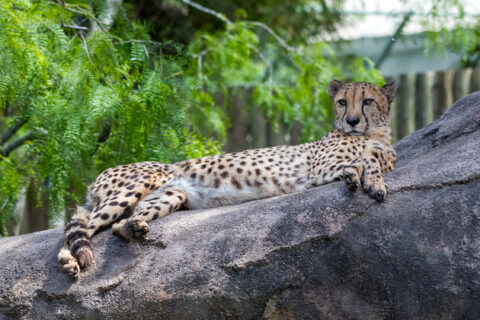 Kiburi, Houston Zoo's 14-year-old cheetah, was humanely euthanized Saturday after battling chronic arthritis and kidney disease, along with other age-related health conditions. With help from the Zoo's veterinary team and the carnivore keepers' exceptional training, Kiburi voluntarily participated in his own medical care and monitoring, including blood collection from his tail and weekly fluids administration under his skin for his kidney disease. Kiburi was treated with multi-modal pain management for his arthritis. His age-related issues were well controlled until recently when Kiburi's keepers observed him to be lethargic and feeling unlike himself. Ultimately, his condition progressed to the point where treatment did not provide enough relief or comfort any longer.
Arthritis and kidney disease cannot be cured and are not uncommon in geriatric felines, including domestic cats. Quality care and advances in veterinary medicine extend animals' quality of life longer than ever, with most felines living well beyond previous generations
Kiburi and his brother, Kito, came to the Houston Zoo as cubs in 2007 and are well known by Houstonians for their participation in the popular Cheetah Walk encounter. The brothers eventually retired from that program and enjoyed their days soaking up the Houston sun on their rocky outcroppings. Kito passed away of similar age-related issues in July. Younger cheetahs, Dinari and Dash, have taken up the mantel as Cheetah Walk participants.
Kiburi will be missed by the entire Zoo family.