Zoo News Blog
Celebrating Our Veterinary Technicians – Meet Jennifer
This week, we're celebrating Veterinary Technician Appreciation Week by highlighting the Zoo's four AMAZING vet techs! Some of their daily responsibilities include intubating animals and monitoring anesthesia, venipuncture and placing IV catheters, interpreting blood films, cytologies and fecals under the microscope, taking radiographs, and filling prescriptions. Although you may not see them on Zoo grounds like other staff, they're an integral part of the team, playing an important role in providing exceptional animal health care.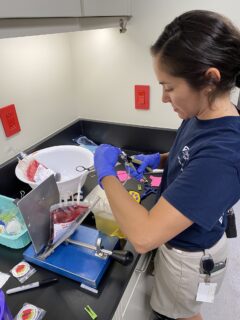 Meet Jennifer!
How long have you been a vet tech at the Zoo?
I've been here for 4 years, and it is my hometown zoo.
How did you start your career?
After graduating from the Bel-Rea Institute in Denver, Colorado I moved back to Houston and worked in an ICU at a small animal specialty practice caring for critically ill dogs and cats. The technical skills I learned during my time there have contributed greatly to what I now get to do with the animals at the Zoo.
What is your favorite thing about being a vet tech?
I get to be a valued member of a team that directly impacts the health and well-being of the animals in our care.
What's one thing people might not know about what vet techs do?
Zoo vet techs are masters of creativity – most supplies we need for our everyday jobs don't exist for the species we have to use them for, so we are constantly problem-solving to make things work. We are also involved in training programs throughout the zoo to provide veterinary care that animals willingly participate in such as vaccines/medications, x-rays, ultrasounds, and blood collection.