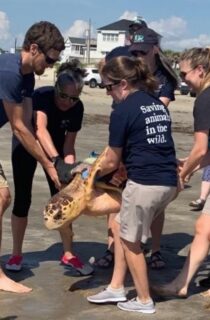 This week, we're celebrating Veterinary Technician Appreciation Week by highlighting the Zoo's four AMAZING vet techs! Some of their daily responsibilities include intubating animals and monitoring anesthesia, venipuncture and placing IV catheters, interpreting blood films, cytologies and fecals under the microscope, taking radiographs, and filling prescriptions. Although you may not see them on Zoo grounds like other staff, they're an integral part of the team, playing an important role in providing exceptional animal health care.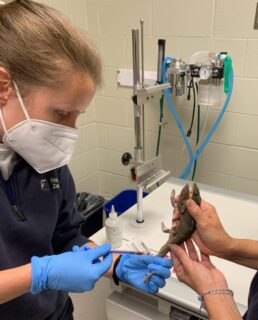 Meet Jessica!
How long have you been a vet tech at the Houston Zoo? 
I've been at the Houston Zoo for 3 ½ years.
How did you start your career?
I started my animal career as a zookeeper but decided to pursue my vet tech degree at Maple Woods Community College in Kansas City, MO soon after. I then started my veterinary career in a small animal practice where I worked with mainly dogs and cats, with an occasional exotic pet. We also did quite a bit of wildlife rehab, mainly with orphaned raccoons, opossums, and squirrels.
What is your favorite thing about being a vet tech? 
Every day is a new adventure. I love having a job where I can learn something new almost every day.  Having the ability to take care of and advocate for animals is my passion.
What's one thing people might not know about what vet techs do? 
We can do almost everything a veterinarian can do, except diagnosing diseases, perform surgery, and prescribe medications. We are surgery technicians, anesthetists, phlebotomists, radiologists, lab technicians, pharmacy technicians, and so much more!