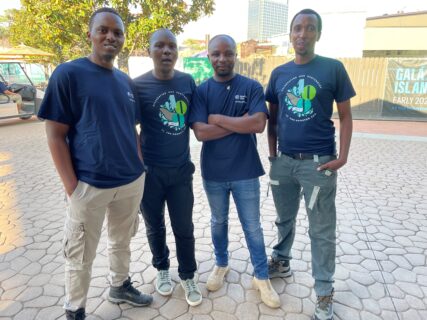 We recently had the honor of hosting four of our Rwanda wildlife veterinary partners (Dr. Deo, Dr. Adrian, Dr. Olivier, and Dr. Noel) who won the Zoo's Wildlife Warrior grants to come to Houston and train with our veterinarians at the Zoo last week. They worked with our Zoo's clinic staff on many different procedures with turtles, snakes, elephants, rhinos, and so much more. Our Rwandan partners requested training with these species to better prepare them for responding to the wildlife veterinary needs in their country. This training has strengthened their skills with new species and provided them with medication and dosage knowledge that will aid in providing life-saving support for animals in the wild. We also provided an opportunity for these partners to learn and grow their professional network by sending them to the 54th annual American Association of Zoo Veterinarians (AAZV) conference here in Houston last week.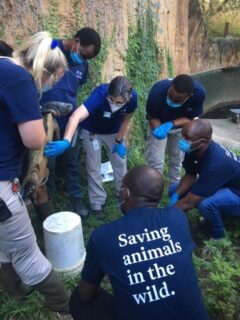 The Houston Zoo has worked closely with its Rwandan conservation staff for many years to save endangered wildlife such as grey crowned cranes, bats and gorillas. In 2021, we ventured into a new project with its Rwandan conservation staff to increase the reach to other threatened and endangered wildlife in Rwanda such as rhinos and lions, with a particular emphasis on veterinary interventions. For the past six years, we have provided support, training, and mentorship for the veterinarians and staff at the Rwanda Wildlife Conservation Association (RWCA). This organization was founded and run by Rwandans who come from and understand local communities and their challenges which helps to make their impact sustainable over the long-term. The mission of the organization is to apply home-grown solutions to restore and protect threatened wildlife and wild places. This is achieved through species threat reduction, research and monitoring, wildlife interventions, conservation education, community involvement and livelihoods, and restoring and protecting natural habitats.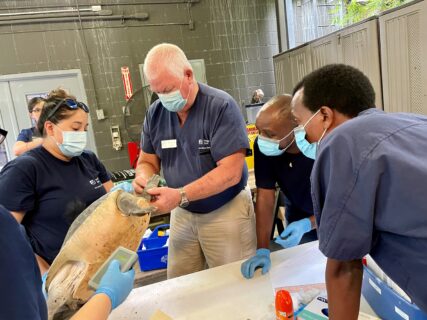 To date, the Zoo has been able to help plan a new specialized wildlife animal veterinary clinic, which will be the first of its kind in Rwanda, as well as source a new vehicle that will enable an effective mobile response system for wildlife health. These exciting new developments will help provide vital protection for all threatened wild animal species in Rwanda. The Zoo has also conducted several virtual veterinary care training sessions in which government staff have also attended.
Every time you visit the Houston Zoo, you're helping support our wildlife conservation partners across the world.