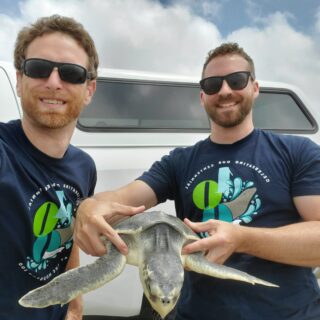 Meet Cody and Andy, they're our two zookeepers who help rescue and rehabilitate injured or stranded sea turtles found along the Gulf of Mexico. Learn more about each of them below and the wildlife-saving work they're doing here in Galveston.
Meet Cody Macon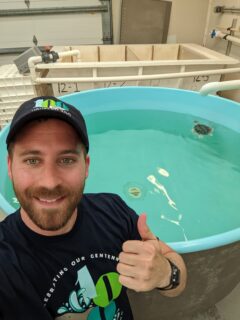 Cody is here a sea turtle hospital keeper and started at the Zoo in July 2019. He was raised in Southeast Texas and has always been fascinated by the marine environment. He has a bachelor's of science in Marine Biology from Texas A&M University and began his career as a commercial fisheries observer with NOAA. Cody then transferred to sea turtle research at the Galveston Protected Species branch of NOAA, where he raised sea turtles to assist in testing turtle-safe fishing gear, to reduce fishing-related mortality of protected species in the commercial fishing industry.
This position also included the task of rescuing and caring for sick and injured sea turtles that were stranded along the upper Texas coast. In 2019, NOAA announced that their research was soon to be completed and the Houston Zoo contacted Cody about continuing the rescue and treatment of sea turtles along our Texas coast. He immediately accepted the position with the Zoo, stating how he admired their enthusiasm and dedication to conserving and saving animals in the wild. He worked with the Zoo's veterinarians while employed by NOAA, so he was already familiar with how friendly the staff was and how dedicated they were to saving wildlife.
My favorite memory working with the Zoo so far was also not long after I started with the Zoo, in 2020, when we picked up the cold-stunned Kemp's ridley sea turtles on the airport runway in Galveston. Those turtles were cold-stunned up in the New England Cape Cod area.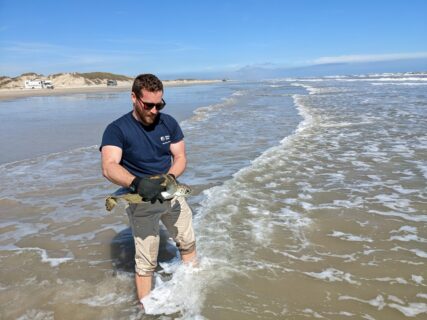 One sea turtle case Cody won't forget is walking over deep mud with his special mud shoes to save five small green sea turtles stranded out on a mud flat during an extremely low tide caused by strong North winds. Without the special shoes, he would have sunk down to his thighs in several spots! The rescue took place near the North jetty on Bolivar Peninsula, TX. The family who reported the turtles and several members of the public cheered Cody on and offered assistance in his efforts to get the turtles to safety.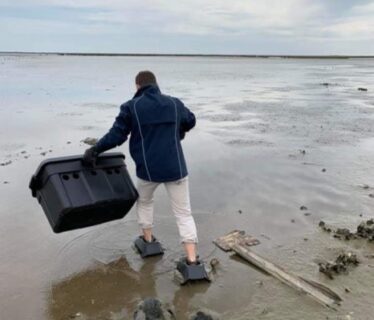 Meet Andy Krauss
Andy also started at the Houston Zoo in July 2019 after the opportunity became available for him to work as a sea turtle hospital keeper. He was very impressed by the Houston Zoo's commitment to save animals in the wild. As a sea turtle hospital zookeeper, Andy provides daily care for injured and sick sea turtles, assists the veterinary staff with sea turtle medical evaluations and treatments, responds to stranded sea turtles on the beach as needed, and communicates with the public about sea turtle threat mitigation including fishing line recycling.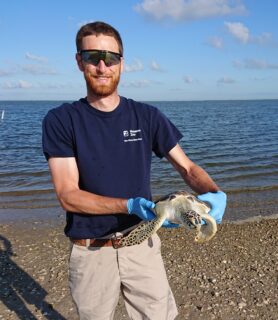 From a young age, Andy has been fascinated with life underwater, particularly of marine creatures and their environments. He is a biologist in marine science by training and developed a keen interest in reptiles during his university studies. Andy was given the opportunity to work with sea turtles in 2010 at the NOAA-Galveston facility. The position involved raising sea turtles for turtle excluder device (TED) testing trials. TED gear that was certified following trials is used by commercial fishing vessels, which increases sea turtle survival in the wild. He also assisted with the onsite sea turtle hospital, caring for injured and sick turtles, and releasing recovered turtles into the wild.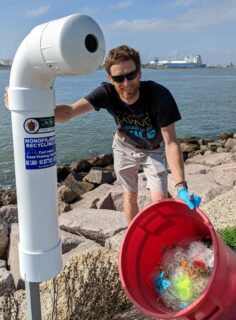 One of his favorite turtle rescue cases involved a subadult Kemp's ridley sea turtle that was stranded in very poor physical condition in October several years ago. The turtle initially did not eat for nearly a month and took over seven months to recover before being released in May. The transformation in the turtle's condition was truly remarkable!
One of my early memories of the Houston Zoo is when I first visited on a family vacation in 1994. I distinctly remember the tiger habitat, which had a large water feature and was beautifully planted.  I imagined a future where all zoos designed species-specific habitats for the animals under their care rather than the traditional mostly bare enclosures, and it is amazing to see this happening now at many zoos!
Thanks for all you do to help save animals in the wild!