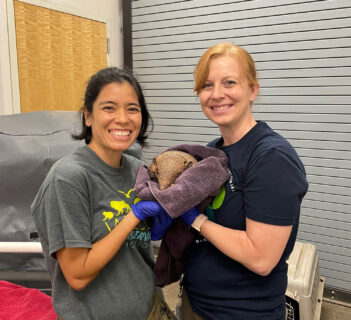 Brazilian Wildlife Veterinarian Trains at the Zoo

When you visit the Houston Zoo you can see giant anteaters in our South America's Pantanal exhibit, but what you might not know is that by supporting the Zoo with your visit, you've also helped protect wild giant anteaters from being hit by cars in Brazil. The Zoo provides support and training for the Anteaters & Highways Project in Brazil. The project is focused on protecting wildlife from being hit by cars through studying the impact and consequences of vehicle collisions on giant anteaters and other species and finds ways to address this threat.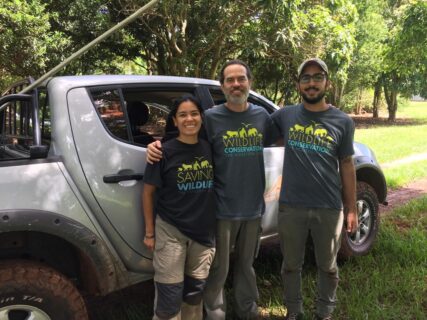 The Houston Zoo has partnered with the Giant Anteaters & Highways Project since it began and has provided support to strengthen this impactful work. One of the many ways the Zoo supports conservation work is by providing skills and expertise training for conservation project staff. Many of our conservation partners have traveled from all over the world to take part in various training programs with Zoo staff over the years.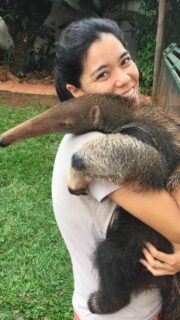 Dr. Debora Yogui is a skilled veterinarian who works with the Giant Anteaters & Highways Project. She provides critical, life-saving care for endangered wildlife in Brazil. Dr. Yogui monitors highways in Brazil and fits tracking devices on giant anteaters to monitor their movement and find safer ways for wildlife to cross roads. She also assists with rehabilitating orphaned wild giant anteaters. Dr. Yogui and her team's extraordinary work have resulted in the creation of the first manual in Brazil on wildlife vehicle collision mitigation strategies that has been endorsed by the state government. Now new roads or roads being paved will plan for inclusion of mitigation measures.
Recently, Dr. Yogui traveled to the Houston Zoo to begin training with Zoo staff and veterinarians on veterinary care, animal care and conservation education. The Houston Zoo's director of animal health, Dr. Christine Molter shares, "Our entire veterinary clinic team is looking forward to Dr. Debora's visit this month." "The opportunity to learn from each other is tremendous and ultimately will help us all save animals in the wild!"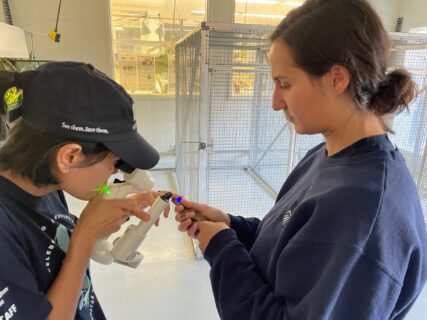 This is Dr. Yogui's first time in the U.S. She's excited to see the Zoo's new South America's Pantanal exhibit, meeting the Zoo's giant anteaters, and spending time with Zoo staff.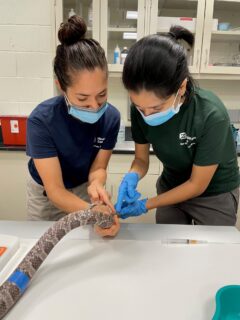 Dr. Yogui shares, "Spending two weeks with the Zoo staff will provide me with the opportunity to learn about medical care and husbandry of giant anteaters that I can use with our wild giant anteaters, as well as the rehabilitated orphans that we care for and return to the wild in Brazil. I am also excited to exchange experiences with the wildlife conservation staff and learn about all the conservation work the Zoo does. I am sure this will give me new ideas! This visit will be amazing for my professional development! For me it will also be incredible to meet the people and the institution that has supported our work for so long. I am so grateful to the Houston Zoo!"