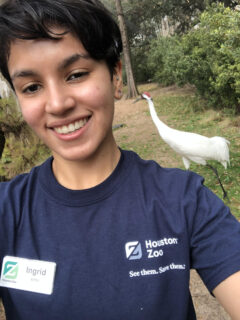 Meet Ingrid Pérez Torres, she's one of our newer Bird zookeepers who joined the Zoo team earlier this year, right before the Zoo's Centennial birthday bash. Read more about her! 
1. When/where did you start your Zoo career?
I like to say that I started my zoo career when I volunteered in a nonprofit organization for domestic cats in the city of Old San Juan in my home island of Puerto Rico. Though I did not take care of an exotic animal, that place is where I fell in love with what I do on a daily basis as a zookeeper. But my actual career started at the Santa Fe College Teaching Zoo in Gainesville, Florida where I did a program for five semesters to later graduate with an A.S. in Zoo Animal Tech.
I ended up at the Houston Zoo after wanting something different. I most recently worked at Discovery Cove, a Sea World Entertainment Park as an associates aviculturist. Searching for new and better opportunities is what got me to apply to the Houston Zoo, and well, I got the job! In August, I'll have been here for six months, but I feel like it has been way longer than that with all the things I have been able to work on here at the Zoo already.
2. Did you always want to be a zookeeper since you were a kid?
Choosing this career did not come naturally for me. I did not know that I wanted to be a zookeeper since I was a kid. When I was younger, all I knew was that I wanted to study something related to science and the overall concept of nature. Then I thought I wanted to be a vet, like most of the zookeepers who find their way into this field, and finally, I found myself starting in this career.
3. What is your favorite animal?
For me this is the most difficult question a person can ask me. I sincerely do not have one, and I feel like I can speak for other zookeeper friends that get asked the same question. When you are so passionate about animals and their well-being, you just focus on admiring all of those that you take care of. If I really had to choose, I would choose a species that I currently work with, which is the Guira Cuckoo. We have four females that can be seen in the Pantanal Wading Bird Aviary at the Zoo.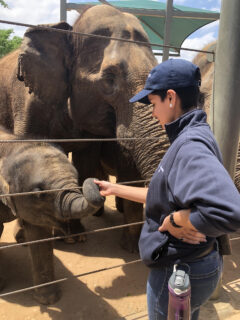 4. The Zoo turns 100 this year, what is your favorite Zoo Memory?
I am glad that I arrived at Houston Zoo just in time to celebrate its 100 year anniversary. For the big celebration, I decided to create a novel enrichment for the blue-throated macaws that I worked with located in the Cliff's Aviary inside of South America's Pantanal. I enjoyed that day a lot and though it is not a specific favorite Zoo memory, it is definitely one of them. The atmosphere of the celebration and the opportunity to spread the message that we want all of our guests to leave our zoo with, "See them. Save them." was just a very memorable day for me to be a part of!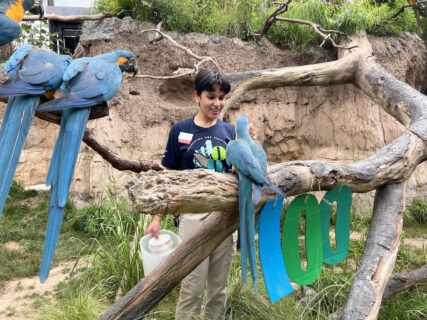 5. What is your favorite thing about working at the Houston Zoo?
I have two answers for this, one is being able to teach the guest things that they did not know about the animals that I work with and two is the diversity of every living being you can encounter at the zoo.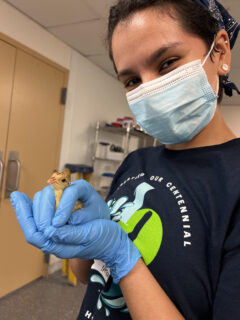 6. What is the most challenging part of being a zookeeper?
As a current bird zookeeper, keeping up with the hatching period of all the clutches from different bird species. Sometimes we get only one pair to lay in a month or for a few weeks, but other times it is like every bird planned to lay eggs at the same time. Keeping up with incubation and/or hatching dates just gets confusing sometimes.
7. When you aren't at work, what are some of your hobbies? Do you have any pets?
I think I have a nice list since I like to be occupied. I take time to cook, workout, read, and watch shows on Netflix. I do have pets, two in total which I love very much. One is a Glossy snake named Yukita and the other one is a Curly hair tarantula named Tornasol.
8. What is something most of your coworkers don't know about you?
My appreciation for rock and alternative music and culture. I enjoy listening to rock to focus when doing any paperwork.