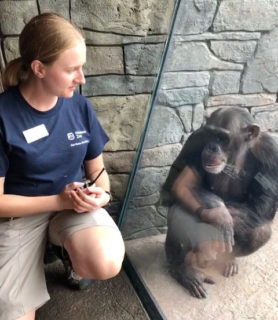 Meet Agnieszka Podraza, she's one of our Primate Zookeepers and has been at the Zoo for a little over five years! Not only does she enjoy working with her favorite Zoo animals, like the Patas Monkey, but she's also is a volunteer at the Houston SPCA. Read more about how she began working at the Houston Zoo. 
1. Where did you start your Zoo career?
When I was in college I used to volunteer in the education department at the Henry Vilas Zoo in Madison, Wisconsin. This opportunity allowed me to handle education animals like ball pythons and Madagascar hissing cockroaches. This interest in animals eventually led me to internships at Lincoln Park Zoo and the Utica Zoo, as well as paid positions at Omaha's Henry Doorly Zoo, and the Little Rock Zoo. Then I migrated farther down south and into Houston.
2. What is your favorite thing about working at the Houston Zoo?
The Houston Zoo houses a large variety of primates. We currently have 16 different primate species! I enjoy working with such a variety, because the days are never dull. The zoo is also very involved with conservation and helping the animals in the wild.
3. How did you know that you wanted to be a zookeeper?
I have volunteered with various organizations since I was in middle school. When I started college, I found a volunteer opportunity in the education department at the Henry Vilas Zoo. Since then, I knew that I wanted to work around animals. It didn't take me long to decide that a zoo-keeping position would be perfect, since it allowed me to closely interact with animals on a daily basis. 
4. What does a typical workday look like for you?
My day starts at 7AM with a quick department meeting. Then, I head over to my building to check in on the animals and start their breakfast, normally consisting of primate biscuits or produce.
Next, the primates go through a training session to assess their body condition and check on any old cuts and scrapes. After that, I set up their exhibit with more food, enrichment, and extra treats so they can enjoy their time outside. Around lunch time, the primates receive more food. The afternoon is usually occupied by prepping enrichment items for the next, working on any projects to improve holding areas, and computer work.
5. What is the most challenging part of being a zookeeper?
The most challenging part of being a zookeeper is losing the animals we work with every day. Having to say goodbye to them is heartbreaking, but we need to take comfort in knowing we did everything we could to make their lives as comfortable as possible.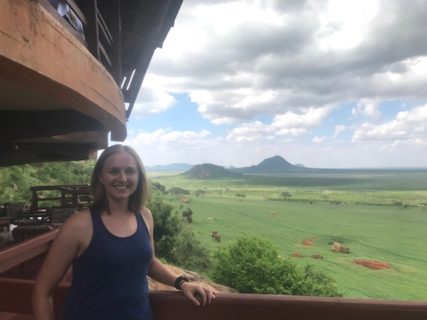 6. Have you traveled abroad to do conservation work as a part of working at the Zoo?
Last year I traveled to Kenya to volunteer with the Colobus Conservation. This is an organization which helps wild African primates. Some of them are sick, injured or rescued from the pet trade and need to be reintroduced back into the wild. The area I stayed at tends to see many monkeys that are struck by cars or electrocuted by power lines. During my time there, I assisted with the care of the monkeys at the organization, assisted in fixing a broken Colobridge (aerial bridge for monkeys to use!), and went on welfare calls when residents reported a monkey in need. Waking up and seeing wild monkeys in the trees is an unforgettable experience!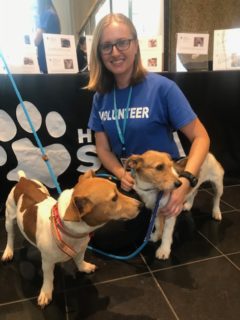 7. When you aren't at work, what are some of your hobbies? Do you have any pets?
When it's not 90+ degrees outside, I enjoy hiking and visiting new cities. While at home, I love cooking and baking. Some recipes turn out great! Others not so much… During my spare time, I volunteer at the Houston SPCA and I foster cats through them as well. Right now I have 7 kittens at home! They are a handful. Hopefully they can go back to the shelter soon and be adopted out. I also have a leopard gecko at home named Petunia!
8. What is your favorite animal to work with?
Patas monkeys are my favorite animals to work with. I have seen Houston Zoo's patas monkeys on their best days and their worst. They can be grumpy, skiddish, and tend to keep to themselves. Gaining their trust is very rewarding.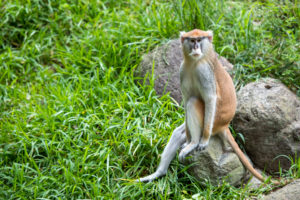 9. What is your secret talent or something most people don't know about you?
I tried to learn how to play an acoustic guitar years ago. I wasn't very good, but I learned how to play beginnings of some songs. I still have my guitar, but it does not come out of its case very often.