Zoo News Blog
May's Featured Member – Tim Daponte and Ginnie Muller family
We love our Members. Their incredible support allows us to make a difference to animals both locally and all over the world. This month, we're spotlighting Zoo Members that deserve recognition. We're thrilled to introduce you to May's Featured Members: Tim Daponte and Ginnie Muller family.

---
We asked Tim and Ginnie  what being Zoo Members meant to their family. Here's what they had to say. "Our family history with the Houston Zoo began on one of our first dates so we naturally became members after we got married. With Matthew's birth, we began a tradition of visiting the Zoo every week.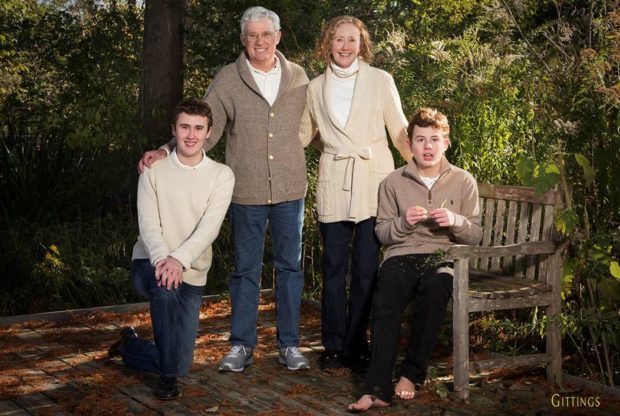 At age two, he insisted on "resting like a Rhinoceros" during nap time whenever he could not go to sleep.  When Ginnie was expecting George, Tim brought Matthew to the Zoo every Friday after school to give her time to rest. His preschool teachers could not believe his extensive knowledge of animals and their native habitats. Matthew celebrated his 4th birthday at the Zoo with his classmates and attended Zoo education programs in the summers and on weekends. Tim and Matthew especially loved the behind-the-scenes tour of the Kipp Aquarium where Matthew fed a rescued Kemp's Ridley Sea Turtle.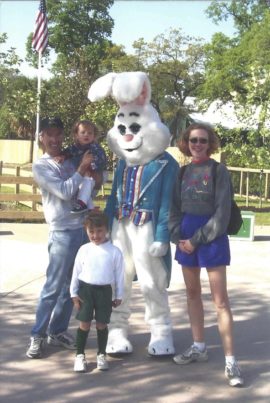 George has a most special relationship with the Houston Zoo, its animals and staff. While Matthew's weekly visits to the Zoo were interrupted by the increasing demands of school, sports, and Scouts, George has thrived on the routine of Zoo visits every Saturday morning. He enjoys the sensory experience of being outdoors in all weather conditions and the bonds he creates with the animals. As a non-verbal, autistic and intellectually disabled boy, George experiences the Zoo at a different level in a highly sensitized way. For years, he headed directly to the Giraffes and remained there, walking back and forth. Although he rarely looked at the Giraffes, his quiet presence did not go unnoticed by them, as they would stop eating and walk towards the railing as soon as they saw him approaching. There they would remain until he waved goodbye and wandered to another exhibit. His favorite Houston Zoo animals with which he spends countless hours include the typically motionless Shoebill Stork, the constantly moving Maned Wolf, and the wounded Bald Eagle whose exhibit was particularly attractive when it contained a replica nest to sit in and required walking on a ramp with hanging plastic chains to access it. His favorite exhibits include the Kipp Aquarium where George loves to run around in the dark and Natural Encounters where he retreats from the crowd by the Naked Mole-Rats. At the McGovern Children's Zoo, he explores the Bat caves, hangs with the Swift Fox, watches the Ducks and Pelicans, and presses buttons which make bird and animal noises. At the Swap Shop, George enjoys the many wonderful items to touch offered by Suzanne and seeks refuge from extreme heat and occasional downpours (although we miss the cats Penny and Bagherra). At the end of each visit, George celebrates with a high-five from cheerful Elena as we exit.
George's parents are not the only ones who follow him throughout the Zoo, alternately waiting patiently when he finds a particular spot where he wants to stay or running to catch him when he takes off. About four years ago, we met two little boys and their father, Robert, who like us visit the Zoo every Saturday and arrive before the gates roll up. Noah and Joey instantly loved the challenge of following their new friend George who was much older, taller and faster. They let him be the leader in this special game invented out of necessity since George, who has difficulty understanding and playing games, will not follow them.  Despite George's lack of social and communication skills, he has formed a special bond with these boys with whom he is uncharacteristically comfortable sharing his personal space. Their friendship is just another amazing experience we attribute to our Houston Zoo membership."
From all of us here at the Houston Zoo, we want to say thank you to all of our Zoo Members. As a Houston Zoo Member, your support truly makes an impact on the growth of our Zoo and conservation efforts. THANKS!