We love our Members. Their incredible support allows us to make a difference to animals both locally and all over the world. This month, we're spotlighting a Zoo Member that deserves recognition. We're thrilled to introduce you to May's Featured Member: Christy Castillo
---
We asked Ms. Castillo to share a few words about what being a Zoo Member means to her. Here's what she had to say.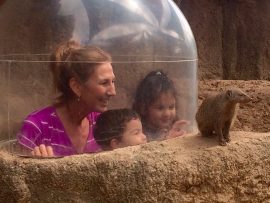 "Growing up in Atlanta, Georgia, I don't remember going to the zoo, but in January 2014, this grandma received her best birthday gift ever, her first Houston Zoo membership. I was excited with the gift but I had no idea how visiting the Houston Zoo was going to become such an important and meaningful event in my regular routine with my grandchildren, Mikaela (3), Noah (1 ½), and daughter in law, Zahra. Zahra and I now make it a point to visit the zoo at least 1 to 2 times per month and we're looking forward to attending the upcoming "Zoobilee".
Zahra and I can't believe all the zoo has to offer and we're amazed by how much we've learned about the animals as well as conservation. Early on, feeding the giraffes was a big deal and doing that plus visiting the petting zoo and crawling through tubes to get up close to the meerkats were regular routines but Mikaela soon wanted to see and learn more and more. We love the gorillas and we even "adopted" one to help with the preservation effort. Mikaela received a stuffed gorilla for the adoption and she named it "Chaka" after her favorite gorilla. Mikaela has a growing scrapbook with both pictures she has cut out from the zoo's monthly magazine and pictures we have taken during our regular visits and her vocabulary of proper names for the zoo animals is growing and growing.
"Washed Ashore" was an amazing and impactful exhibit. Mikaela is now concerned with litter and when I ask her why she's picking up a discarded plastic bag she replies, "because turtles will swallow them and die". Recently when a zoo volunteer was sharing information on Orangutans, Mikaela asked me "grandma, what does endangered mean?" We find all the volunteers and the zoo associates to be so friendly, helpful, and informative. It's obvious they love what they do. The Swap Shop is now a must visit and Mikaela is now regularly looking for things to bring in and "Swap". The patience of the Swap Shop staff is amazing since they even focus on engaging Noah and they do it!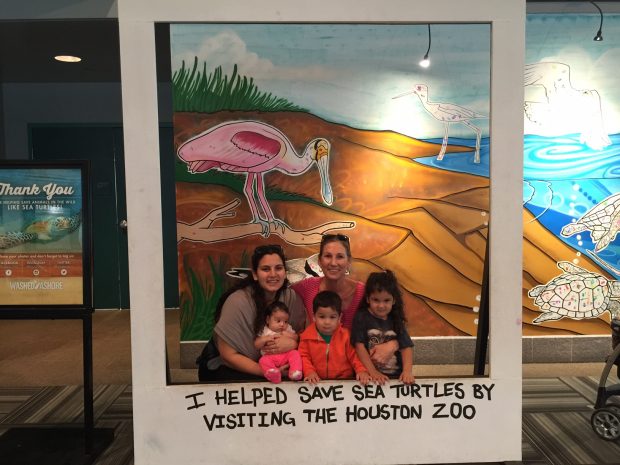 I have another granddaughter, Alaia (2), who lives out of state. Her mom and dad are real "zoo people" with zoo memberships, and when they look for a new house, they even consider if it is "close enough" to the local zoo. When we brought them to "our" zoo, they fell in love with it and couldn't say enough about all that our zoo has to offer. Alaia will be visiting again soon and I'm so looking forward to taking Mikaela, Noah, and Alaia to the zoo because I now know, that's what grandmas are for."
---
From all of us here at the Houston Zoo, we want to say thank you to Ms. Castillo and all of our Zoo Members. As a Houston Zoo Member, your support truly makes an impact on the growth of our Zoo and conservation efforts. THANKS!