We love our Members. Their incredible support allows us to make a difference to animals both locally and all over the world. This month, we're spotlighting a family of Zoo Members that deserve recognition. We're thrilled to introduce you to March's Featured Members: the Baker family.
We asked the Bakers to tell us a little about their favorite Zoo experiences and what being Zoo Members means to them.
---
How did you celebrate your 10th birthday? Skating rink? Bowling alley? Pool party? Well, an ordinary birthday party would not suffice for Lily. She wanted to spend her birthday cleaning up the Surfside jetty!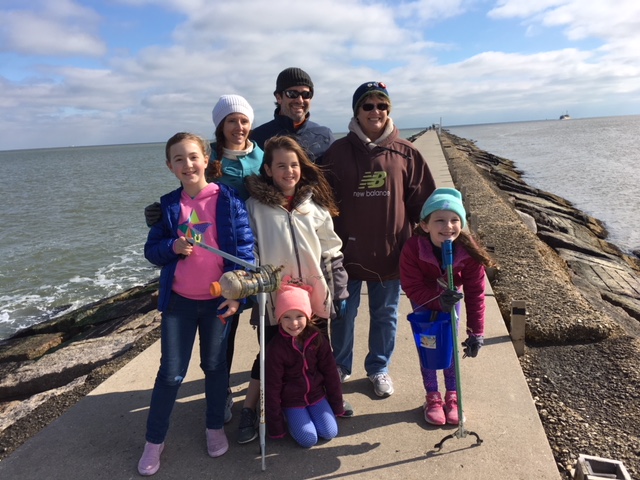 Lily spent a portion of her summer for the last five years with Camp Zoofari. While there, she learned about not just the animals at the Houston Zoo, but also what the Zoo is doing to help save animals in the wild. She especially enjoyed this past summer, hearing about how the Zoo's sea lion team has been cleaning up the Surfside jetty. Lily's parents, Amber and Matthew, however, weren't going to let Lily and her sister have all the fun at camp! They spent a Friday in July participating in Camp Zoofari for Adults. Their day involved learning about the Houston Zoo sea lions and the conservation efforts the Zoo assists with to help prevent plastic from entering the local waterways.
The jetty clean up project was started in 2014 to help tackle the global issue of monofilament in our waterways. Five specially designed receptacles were built and mounted along the jetty. Each month, the sea lion team leads a team of volunteers to empty these receptacles, remove trash and recyclables from the rocks on the jetty. To date, the team has collected 405 lbs of monofilament, 1,870 lbs of recycling and almost two tons of trash!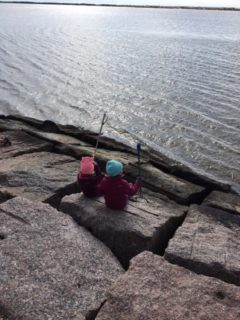 Lily's mom, Amber was curious about the jetty clean up and asked if members of the public could assist. Unfortunately, clean up supplies are limited, and we are unable to open it up to large groups. The reason for Amber's curiosity was because her daughter wanted to have her next birthday party cleaning up the jetty because of what she learned during Camp Zoofari. After the Zoo team heard that, we knew we had to help make it happen.
Lily, her family and a few friends joined Zoo staff and volunteers at the jetty on December 9. It was one of the colder days we had seen that fall, but the girls were excited to learn and start helping. Amanda, a sea lion keeper, taught the girls about monofilament and the bins that line the jetty. She showed them how to use the tools and then they were off. The group loved using the grabbers to get trash between the rocks and sorting what they found. Their energy and hard work were amazing to watch. It was inspiring for our Zoo team to see the next generation so dedicated to helping save animals.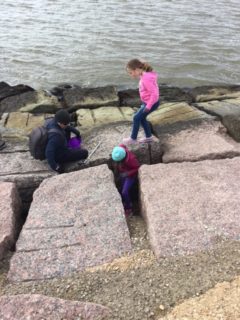 After the clean up, Lily and her parents shared that they were amazed with how much trash they found at the jetty. The girls were determined to pick up every piece of trash on the jetty and at the end of the day, were disappointed that they couldn't get everything. But in just four short hours, Zoo staff, Lily and her family and friends were able to collect 112 lbs of trash and recycling! That's 112 lbs that will not end up affecting marine life. The girls walked away seeing the impact of their time at the jetty and knowing that every little bit helps.
Looking to help marine life? Next time you are at the beach, take a few minutes to pick up some of the trash you find. You can also use your reusable water bottle and bag to help reduce the amount of single use plastic. Remember – small actions can add up to big impacts!
---
While at the jetty, we asked the group about their experience.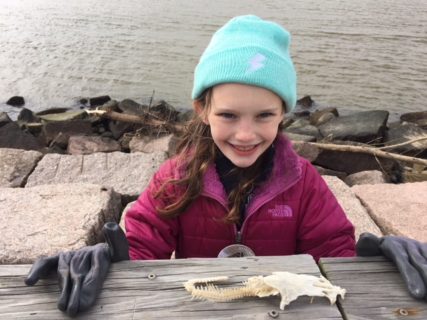 To Lily:
What made you decide to have your birthday at a jetty clean up?
I love the Zoo and Zoo camp. My mom and Dad went to Zoo camp and learned about the clean up. It sounded like a lot of fun and something I would want to do.
What surprised you most about your day?
We found so much trash on the jetty. We even found a tire wedged in between rocks.
What was your favorite part of the experience?
I loved cleaning up the jetty, but finding skeletons and skulls was awesome.
To Lily's parents:
When did Lily express an interest to participate in a jetty clean up?
Lily never stops thinking about her next birthday. Over the summer, she read about a beach clean up and immediately asked if should could do something like this for her next birthday. Matthew and I had no experience or even any idea how we might be able to make that happen, especially given that her birthday is in December. However, Lily's timing was nearly perfect as Matthew and I had just participated in the Houston Zoo's July Adult day camp with the sea lion team. During our camp experience, we learned about the opportunity to volunteer for the sea lion team's jetty clean up. We mentioned Lily's birthday wish to our "camp counselors" and Joanne took it from there.
How did the experience compare to what you were expecting?
It was so much more than we expected. Having never been part of beach clean up, we were clearly inexperienced and not sure exactly what to expect. We had such a wonderful experience cleaning up the jetty and helping to save marine life from all of the trash and fishing line. We could not believe how much trash we collected in just a few short hours. We were especially thrilled by how engaged the Zoo staff were with the children.
What surprised you most about the day?
Despite the weather, we were so surprised at how much the kids wanted to help. I am not sure they wanted to leave until every piece of trash on the jetty was picked up. They were even planning their trip back to the jetty on the card ride home.
---
From all of us here at the Houston Zoo, we want to say thank you to the Baker family and all of our Zoo Members. As a Houston Zoo Member, your support truly makes an impact on the growth of our Zoo and conservation efforts. THANKS!