We love our Members. Their incredible support allows us to make a difference to animals both locally and all over the world. This month, we're spotlighting a Zoo Member that deserves recognition. We're thrilled to introduce you to March's Featured Member: Karla Hamilton.
---
We asked Karla to share a few words about what being a Zoo Member means to her. Here's what she had to say.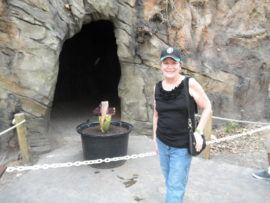 "I love being a member of the Houston Zoo. In June of 2010, I went to The Houston Museum of Natural Science everyday to see Lois the Corpse flower while she was blooming. In September of 2011, a friend of mine called to tell me about Pewtunia the Corpse flower at the Houston Zoo. I immediately went down there to see her and became a member of the Zoo that day! I try to get to the Zoo every member morning as my schedule allows. I am a freelance artist and calligrapher and love taking pictures for my own pleasure and to incorporate in my drawings. I love talking to the keepers and appreciate the love they have for the animals and their jobs. I also am a member because I see that the Houston Zoo is a vital part to bringing awareness to the plights of animals in the wild and hope my small contribution is a help.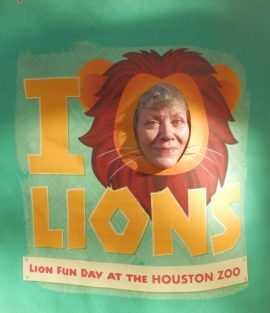 Also I appreciate how some of the animals were rescued from bad situations and given a better life at the Zoo! I have become fascinated with the Gorillas and the Red River Hogs. I love seeing the babies that have been born there, especially the Flamingos and how fast those little white balls of fluff grow. I try to always see the Cats (I have 3 house cats of my own) and was sad when Jonathan died, but he had a good life. After December's Member morning, I have now put the Elephants on my regular walk. I can't wait to see their new environment. I am a great fan of Dinosaurs and was thrilled by the Dinosaur exhibit I went twice. Each month I try to see either the Reptile house, Birds, Bugs, Aquarium and Natural Encounters. There is so much to see and learn about I never get tired of going and appreciate the extra perks like Photo day and the Horticultural tour!"
---
From all of us here at the Houston Zoo, we want to say thank you to Karla and all of our Zoo Members. As a Houston Zoo Member, your support truly makes an impact on the growth of our Zoo and conservation efforts. THANKS!