Zoo News Blog
Malagasy Student at Rice University is Saving Lemurs in the Wild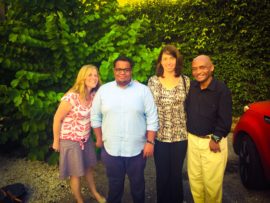 The Houston Zoo seeks opportunities to support current and future conservation leaders locally and around the world.  In doing so, we can help to ensure that the future is filled with leaders ready to save animals from extinction. Rice University has been working in Madagascar for many years now and several years ago we discovered our Madagascar conservation efforts aligned.  In 2018, we provided a fellowship for a Malagasy student to attend Rice University. Here is his story:  
Hello Everyone! My name is Hasinala and I am a visiting scholar at Rice University and Houston Zoo Conservation Fellow. I recently received my Masters degree in Biodiversity, Ecology and Evolution from my home university in France.  I am originally from Madagascar, but moved to France in 2011, right after I graduated from high school in order to further my education. Despite my move to France several years ago, growing up in Madagascar, the world's most biodiverse island, has definitely influenced my career goals and research interests. While I spent most my academic career in France, I have always been focused on returning to Madagascar. This is why I have done most of my research in Madagascar, studying their most iconic animals – the lemurs!
Choosing your advisor and where you are going to conduct your research for your Master's thesis is of crucial importance as it will influence, to a certain extent, your future endeavors and what type of research you specialize in. I first heard about Dr. Amy Dunham, my advisor at Rice, a couple of years ago, when I met one of her former Malagasy PhD students, Onja Razafindratsima, in a research station in Madagascar. A year ago, when I first started to look for a research team to host me, Dr. Dunham was the first person I contacted among a list of +20 researchers, but lack of funding made it impossible for us to work together. While disappointing, I continued on my quest, and after several months I finally secured an internship with another research team conducting work in Madagascar. I couldn't wait to get to work, but unfortunately nature had other plans. A plague outbreak started in Madagascar, causing the research team to postpone their trip, and once again I found myself without an internship. I desperately contacted Onja Razafindratsima, looking for labs that would host me. She suggested that I reach out to Dr. Dunham again and take another shot at collaborating with one another. A few weeks later, and against all odds, Dr. Dunham had managed to secure a fellowship for me working with her at Rice University thanks to the generosity of the Houston Zoo. The next thing I knew, I was at Rice University conducting research on seed dispersal by birds and lemurs and racing against time to wrap up my thesis. This has been, by far, the most exciting internship I've ever had! The main outcome of this research project has been to show that birds and lemurs, through seed dispersal, are crucial for the regeneration of forest gaps that were created by major cyclones in Madagascar. With climate change, it is expected that cyclone will be more frequent and more intense. This will cause more damage to tropical forests, and consequently there will be even more reliance on birds and lemurs to regenerate forests.
This research project has really ignited my interest for research in tropical ecology and conservation, and I am truly grateful to the Houston Zoo for making this possible. My next step ideally would be enrolling as a PhD student within the same research lab, but as you may have guessed, funding a PhD is a whole other ball game!